NEUER ANTRIEB,
NEUE CHANCEN
New Drive,
New Opportunities
Automakers are investing billions in electromobility – not just in vehicle development, but also in the production plants. That represents a major opportunity for Dürr, because flexible, modular production facilities are required to enable cost-efficient entry into the new mobility era.
It will have four wheels and also, for the moment, a steering wheel. But the drive, and therefore the entire vehicle concept, will change dramatically. Professional services company PwC estimates that 55 percent of the new vehicles in Europe could be powered solely by electricity as early as the end of the next decade. In China, the largest car market in the world, things could move even faster. A fixed electric quota of, initially, 10 percent has been specified there from 2019 onwards, and the intention is to gradually increase this figure. All of the vehicle manufacturers have responded to this and are working on a new generation of
e­-vehicles. According to the German Association of the Automotive Industry, German manufacturers alone plan to expand their model range to more than 100 electric vehicles, including plug­in-hybrids, by 2020. In addition, startups with no automotive engineering experience, mostly domiciled in California or China, are moving into the market.
---
Up to 36 bolts
are used to ensure that the battery is securely fastened to the vehicle. The bolts, which can be 15 cm long, are fastened efficiently and fully automatically using patented Dürr technology.
---
Modular Marriage
In automotive terms, "marriage" relates to the stage in which power train, chassis and body are attached to each other.
In the age of electromobility, the battery is to become a further element in this permanent connection. Dürr's computer-based technology enables this fully automated assembly process without requiring any additional time.
---
HIGH DEMAND FOR NEW SYSTEM CONCEPTS
The changeover to electric cars is a huge challenge for the manufacturers' production planners, who work on a long-­term basis. After all, every investment decision being made right now will impact the cars that are expected to roll off the production line in 2025. The gradual changeover to electric drives will not revolutionize the complete automotive production process overnight, but: "Many automakers are currently still working with a mixed production operation, in which up to six different drive variants are built on one line," explains Dr. Johannes Grobe, who is responsible at Dürr for sales of paint shops and final assembly systems. Over the next few years, however, more and more factories specializing exclusively in the production of electric cars will be commissioned. Both strategies harbor challenges. A mixed production system has to incorporate additional process stages, such as fitting the battery, without disrupting the specified production cycle time. For a plant solely manufacturing e­cars, on the other hand, the question arises of the plant's design production volume. In either case, according to Grobe: "Our customers have to be capable of responding flexibly to changing markets. We therefore foresee a high demand for new plant concepts, assisted by innovative technologies." Grobe cites as an example a new oven for paint shops that ensures ideal drying of electric cars, which are designed with lightness in mind, while at the same time having a very small footprint.
Armin Herrmann, product line manager for assembly lines at Dürr, illustrates what flexibility in final vehicle assembly means, using the example of a "marriage". This romantic term is used by specialists to denote that part of the manufacturing process in which the power train, chassis and body are permanently attached to each other. Extreme precision is called for from day 1 of production, and this same specification then continues for years in an unchanging 60­-second cycle. Electrification adds a new element to that, namely the battery. "The batteries are getting bigger and bigger to enable longer and longer ranges," explains Herrmann.
"The next innovation will be a fully automated filling system, in which the adapter is put in place and removed by a robot."
Bernd Preißler, Managing Director of Dürr Somac GmbH, Stollberg
THE G3BLUE ADAPTER
---
Up to

60 liters
of refrigerant is added for the batteries.
---
Loaded
The G3Blue adapter for fully automated filling processes in final vehicle assembly is substantially lighter than previous generations and requires less time. It is also used for filling electric vehicles with the refrigerant required for their batteries.
---
"They generally take up the entire underbody." He picks up a roughly 15-­cm­-long bolt. The battery is secured at up to 36 attachment points. The bolts are not all identical – an additional challenge for the engineer. "Computer-­controlled bolting stations mean that the battery can be fitted within the usual cycle time on the line," says Herrmann. He is particularly proud of a technology patented by Dürr that enables up to four different bolts to be delivered simultaneously and fully automatically to the attachment point.
MODULAR, FLEXIBLE, EFFICIENT
For the final vehicle assembly specialists at Dürr, however, flexibility in automotive production also means being able to very quickly extend and commission production lines or, if necessary, relocate them from one plant into another. This is made possible by ensuring that the systems required for the marriage are constructed entirely in discrete modules. Since each module is self­contained, in terms of both connections and control technology, and has its own base, it can be shipped anywhere in the world as a complete unit.
"A line that has already been erected and tested in advance attains full production capacity within two weeks of arrival on our customer's premises," explains Herrmann. "The concept has gained added impetus again as a result of the upcoming investments in the production of electric vehicles."
For Bernd Preißler, too, the priority is on producing electric cars as efficiently as possible. In Stollberg, a small town in the Ore Mountains region of eastern Germany, the managing director of Dürr Somac turns to a different matter. The large batteries of future electric cars will have to be kept within a constant, narrow temperature window of between 20 and 40 degrees Celsius in order to retain their full capacity. Up to 60 liters of refrigerant has to be added in the factory. "We're relying on flexibly operating filling systems to keep to the specified cycle time," says Preißler. Thanks to their ergonomic design features, patented lightweight adapters used to connect the system and the vehicle will help ensure that the process is conducted both quickly and reliably.
---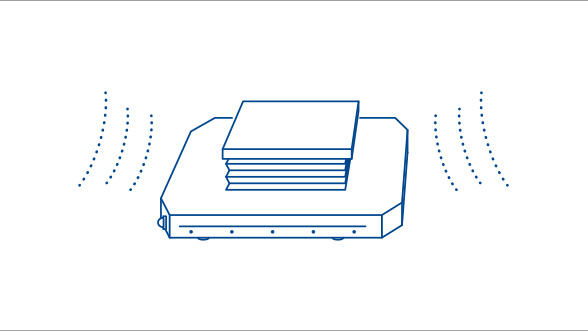 Automated Guided Vehicles (AGV)
Moving to the next production stage without a driver: the small transport vehicles know exactly where to go and always take the car body safely to its destination.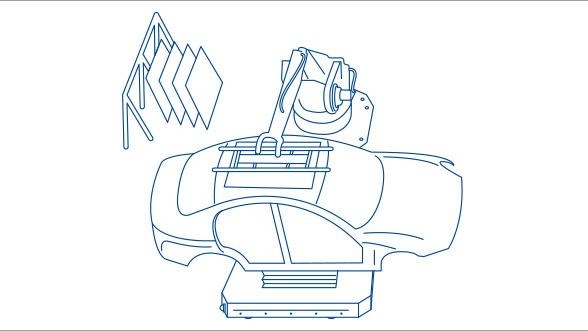 Glueing
More plastic, less weight. Here, welded seams are replaced by glue points. Another application is glueing windows in vehicles.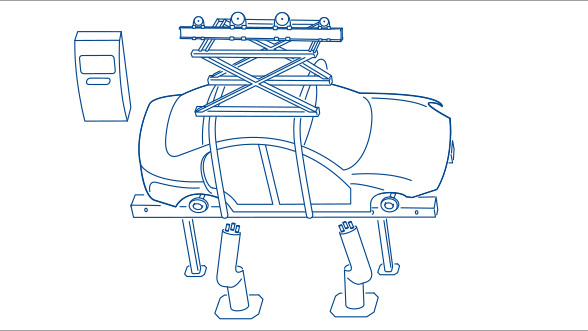 Marriage
Chassis, car body and electrified power train including battery: these elements are married to produce a car. Dürr's computerbased technology enables this fully automated assembly process without requiring any additional time.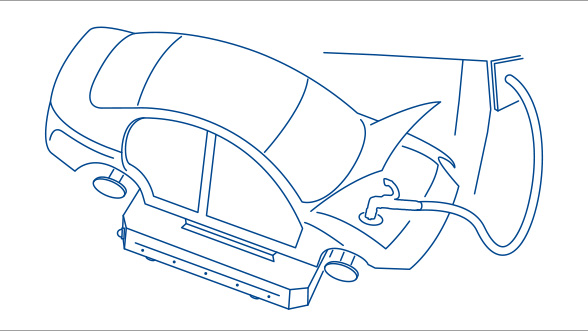 Filling
Brake fluid and other fluids must still be pumped into the vehicle. However, an electric drive has no need for engine oil. Instead, our systems fill the car with refrigerant for its battery.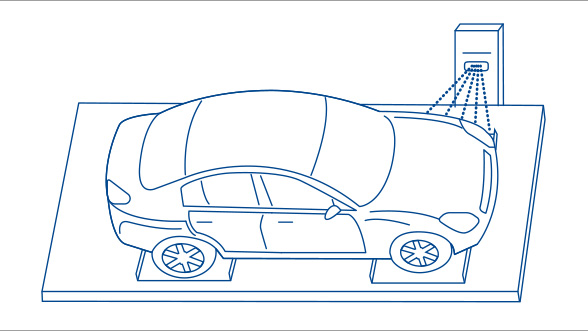 Testing
Do the brakes work? Are the headlamps set correctly? Do the distance sensors work properly? Following end-of-line testing, the results are documented.
VALUE CHAIN
Automotive manufacturing is complex. The vehicle must pass by numerous stations before it can finally roll, fully functional, off the conveyor belt. Dürr provides the production technology for numerous stages in automotive manufacturing. Electromobilty mainly affects the final assembly stage. We present our solutions.
An integrated measurement unit will monitor the process and transmit data continuously to the system computer – enabling trouble­-free filling operations to be documented. The systems from Stollberg, which are also used to fill the vehicles with brake fluid, transmission oil and refrigerant for air-­conditioning systems, are already being successfully used not just with conventional vehicles but also with electric cars. The brake and cooling systems of the StreetScooter electric van developed by Deutsche Post, for example, are filled using systems from Dürr Somac. Preißler is already working on the next innovation in conjunction with a vehicle manufacturer: a fully automated filling system in which the adapter is located by a robot.
"We can supply 70 percent of the entire added value between the marriage and the end-of-line testing technology ourselves."
Dr. Johannes Grobe, Head of Sales for Paint and Final Assembly Systems, Dürr Systems AG, Bietigheim-Bissingen
BEST CONNECTIONS
The main implication of extending the range for electric vehicles is that the battery becomes larger and therefore heavier. For that reason, the manufacturers try to save weight wherever possible in the car. Plastics and composites such as CFRP supplement aluminum and steel. The outcome of this on the shop floor is that many connections with these materials can no longer be welded. "In many cases, glueing represents a good alternative to welding or at least supplements mechanical jointing methods," explains Frank Schnur, who is in charge of the development of highly automated glueing systems. However, glueing also plays a critical role with the battery, the heart of every electric car, because the cells which are linked to form A5-­sized modules must be securely attached in the battery housing – such that the heat generated during charging and discharging can be dissipated. The cells are therefore embedded in a gap filler. This filler material can weigh up to six kilos per battery – and a corresponding number of systems are needed on the shop floor of an electric car plant. Other battery module components, too – e.g. the cover – are attached using an adhesive and also sealed as a result. "Dürr supplies the battery module manufacturers with the complete one­-stop system on request, including the handling and manufacturing execution system," says Schnur.
STRONG PARTNER
As a supplier of all the systems needed for final vehicle assembly, Dürr is also an attractive proposition for startups that are moving into the market with electric cars. The machine and plant engineering company oversees its customers' projects from planning of the initial layout to commissioning – and also subsequently provides downstream services. "We can supply 70 percent of the entire added value between the marriage and the end­-of-line testing technology ourselves," says Johannes Grobe, who has extensive experience as a sales manager and constantly receives new inquiries from China. He is also responsible for paint shops, where a turnkey handover is almost the norm. Whether electric cars come to dominate sooner or later is irrelevant for this business field. Both tires and paintwork are absolutely indispensable, whatever other changes may occur.