Compliance / Integrity Line
Compliance management system (CMS)
The compliance management system comprises all activities at the Dürr Group with the aim to ensure that all conduct in daily business conforms to the rules and high ethical standards. The CMS governs responsibilities, communication channels and measures in three key areas of activity that are closely interconnected: prevention, early detection and response.
The CMS thus supports employees in identifying and preventing compliance breaches and the associated liability risks and penalties.
One of the key contributions toward preventing compliance breaches consists of trainings like e-learning programs, face-to-face trainings and induction events for new employees as well as a range of further information available on the intranet. These training measures support employees in detecting and preventing compliance breaches, and they form an integral part of our CMS. Added to that are written guidelines and organizational instructions that set out internal rules, such as separation of functions, approval procedures and signature rules or dual control ('four-eyes principle').
The early detection of risks is a key factor in preventing compliance breaches. A regular process takes place at Group level, whereby Dürr-specific compliance risks are systematically identified, analyzed and updated.
Crucial elements in detecting risks of compliance breaches at an early stage are the annual risk inventory carried out by the Corporate Compliance Board, based on information provided by the local compliance managers, as well as the 6-monthly compliance risk reporting by the Corporate Compliance Officer. Another key factor in the early detection of compliance risks is the Compliance Help Desk, which can be contacted to report potential breaches and risks for Dürr.
If a breach is identified, the relevant Dürr company or functional area is obliged to report the incident immediately using the defined communication channels. Following analysis by the Corporate Compliance Officer, such counter-measures as training, organizational instructions and internal controls are implemented to prevent such compliance breaches in the future.
Organizational structure of compliance management:
The Dürr Group's Corporate Compliance Board deals with any issues relating to compliance. It is composed of the CFOs of the divisions and the heads of some of the Group's central functional areas.
The Corporate Compliance Officer works at central Group level. He/she handles reports on potential compliance breaches and investigates them. Also among his/her remit is the worldwide compliance training program.
Each Dürr Group company has a local Compliance Manager, who is responsible for local tasks as part of the CMS.
Reporting compliance violations / Integrity Line
To do justice to the trust and confidence placed in Dürr by customers, suppliers, associates, shareholders and employees as well as other stakeholders of the company, absolutely top priority is assigned to the integrity and transparency of our business workflows. To this end, we need to be notified of any compliance violations, particularly in cases of violations of applicable norms under criminal law as well as our → Code of Conduct.
In addition to the contact details listed below, information to the Compliance Office can also be provided via our reporting system Dürr Group Integrity Line. The Dürr Group Integrity Line as a component of an effective Compliance Management System is used for early detection of undesirable developments that could lead to significant risks for Dürr. With the → Dürr Group Integrity Line, we offer the possibility of reporting compliance violations anonymously and securely or by voluntarily providing your name and data.
→ Internal complaints procedure: Rules of procedure pursuant to section 8(2) of the German Act on Corporate Due Diligence Obligation in Supply Chains (LkSG)
All information will be handled confidentially and quickly. Any form of disadvantage toward employees, business partners or third parties based on a report which has been made in good faith is excluded. This shall also apply if a report subsequently turns out to be unfounded.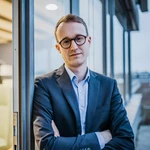 Dr. Florian Müller
Dürr Aktiengesellschaft
Carl-Benz-Str. 34
74321 Bietigheim-Bissingen
Germany