Equipped for testing with latest-generation robots
Test center Paint in Bietigheim-Bissingen modified for two million euro
Dürr's Application Technology division has upgraded the Test Center Paint in Bietigheim-Bissingen (Germany). The modification has created line tracking simulation conditions that are unique in the world. Thanks to the total investment of around two million euros, the test center can meet current customer requirements all relating to the latest generation of robots.
One of the two paint booths in the Test Center Paint is now equipped with two → EcoRP E043i robots. Their seventh axis gives them a particularly big range of movement. At the test center, they have been fitted to the → EcoRail X, which can be used to simulate line tracking – this is not possible anywhere other than in Bietigheim-Bissingen.
Just like in real production
The continuous transport of car bodies through the paint booth makes robot programming more complex, especially for interior painting. In the test center, the car body is situated on a lifting table to recreate in the room the position it will later have in production. To simulate line tracking, only the robot moves on the travel rail.
The → EcoRail X behaves like the conveyor technology on which the car body moves in the real production environment. The advantage is that, in the test center, the teacher can stop the robot's movement as often as necessary to adapt the programming. The paint application can also be repeated. These tests can save valuable time during commissioning.
Special paint supply and overspray-free painting
Line tracking simulation is not the only new feature implemented as part of the modification. Another area of the test center now offers all three available systems of the → EcoSupply P special paint supply. They can be used for internal and external training.
Another special feature of the Test Center Paint: One of the 13 different types of application that can be tested here is overspray-free painting. This new technology enables specific areas of the car body to be painted with a contrasting color – without masking certain parts of the vehicle and without the need for a separate paint cycle. This saves time and resources during the process.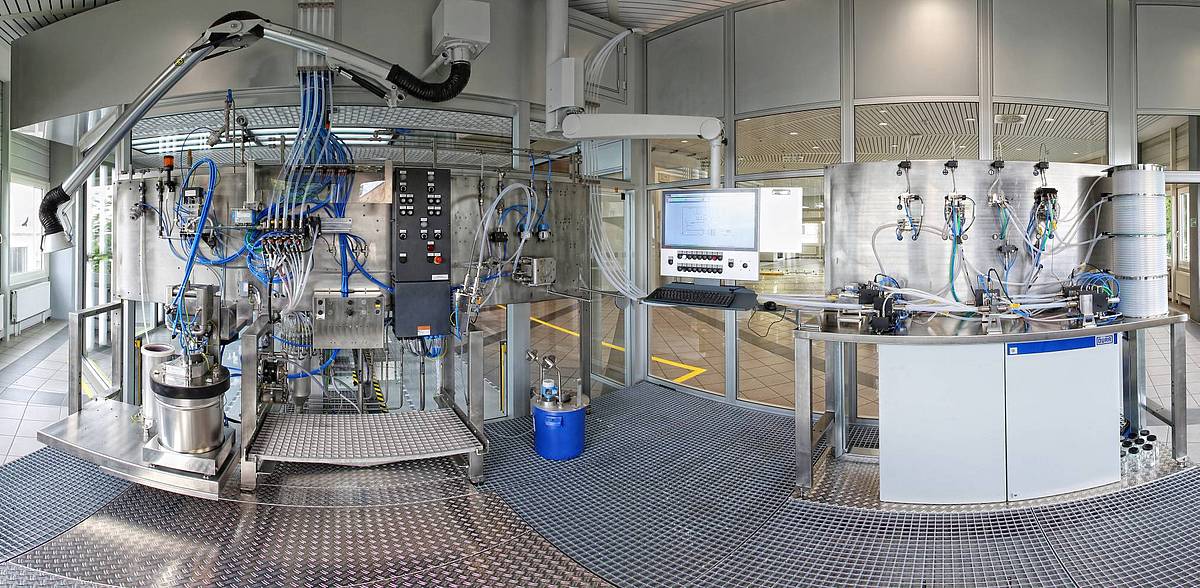 New features in the Test Center Paint include the EcoSupply P paint supply systems.
While the paint booth was modified, normal operation continued in the remaining test center. The first customer tests have now been carried out successfully in the modified paint booth.
Aside from the Test Center Paint, there are seven other test centers in Bietigheim-Bissingen, in which pioneering, customer-specific concepts and solutions are tested, optimized and further developed. At the Dürr headquarters, one of the training centers, equipped with state-of-the-art technology, also offers skills development and training measures connected with the application of paint and viscous materials. It also offers the latest generation of robots for training purposes.
Test and training centers at the Dürr site in Bietigheim-Bissingen
| | |
| --- | --- |
| Test Center PT/ED | Although the RoDip® rotational dip-coating process has been used to coat as many as 25 million vehicles, here experts continuously develop this technology further. They also work on the ongoing improvement of the – already highly efficient – EcoMultiCyclone separation system. |
| Test Center Sealing & Test Center Gluing | Equipped with the latest sealing and gluing robots, respectively, these two test centers offer perfect conditions for application processes. They enable experts continuously to develop the application of viscous materials and the gluing processes. |
| Test Center Booth | This test center is used for the ongoing optimization of the paint booth. New features such as the integration of channels, air conditioning and air circulation system within the cross-section of the booth were conceived here, as were innovative systems for dry separation of overspray, such as the EcoDryScrubber and the EcoDry X. |
| Test Center Oven | Here, the foundation for the revolutionary EcoInCure oven concept was laid. This oven heats the car body from the inside out, offering a huge benefit, especially for new vehicle generations with mixed materials. |
| Test Center Modular Assembly | The name says it all: based on the innovative FAStplant® assembly system conceived here, it is possible to test new assembly concepts using the modular system. This test center is used, in particular, to analyze the productivity and ergonomics of the workplace design. |
| Test Center Environmental Technology | The stricter the emission levels, the more important it is to provide increasingly efficient exhaust-air purification. Along with the reuse of process heat generated here, this is what experts work on at this center. |
| Training Center | From maintenance and service staff, plant operators and programmers right through to managers and planning groups – this is where they all receive training on how to use the most common Dürr robots as well as atomizers from the EcoBell range and EcoLCC color changers, among other things. |