Next level balancing
With Schenck ONE into the digital age
"Digital Solutions. Real Value." – This is the slogan for Schenck ONE, Schenck RoTec's new digital brand. Intelligent software solutions help customers unlock the full potential of their production and machine data. Schenck ONE was first introduced in September at the EMO in Hanover. Schenck RoTec's presentation at the fair also included two new, digitally connectable balancing machines. The company specializes in balancing and diagnostics technology and is a subsidiary of the Dürr Group.
When it comes to balancing processes, the more transparently they are displayed, the better they can be understood and optimized. Schenck's new software solutions help to achieve this. Under the → Schenck ONE brand name, digitization has definitively found its way into the product portfolio of the Darmstadt-based balancing specialist. Under the roof of this new digital brand Schenck will bundle smart applications, which will enable customers not only to access their own production and machine data more easily but also to carry out extensive analyses. This will empower customers to make use of the full potential of their data.
We want our customers to benefit from the opportunities of digitization. Schenck ONE allows us to best support them in doing so.
Holger Mayer , Senior Product Manager Digital
Data as the key to success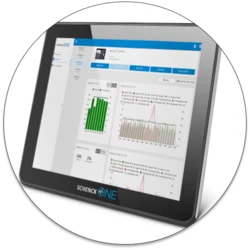 The new digital brand Schenck ONE includes the SmartCockpit dashboard application, which supports customers in organizing and optimizing their machinery. The user-friendly software solution provides an overview of all connected balancing machines; the complete information can be retrieved at any time and from any place. In a detailed overview, machine-specific production and quality figures as well as availability and errors per machine are clearly displayed. The SmartCockpit enables efficiency and productivity analysis across all OEE factors (OEE = overall equipment effectiveness).
The RotorDataCenter, another application, automatically records and centrally stores all rotor-specific parameters and information. As a result, customers not only have full traceability of all measurement and work results, but they can also filter, sort and compare the complete data material stored. The application therefore helps to ensure efficient quality management.
Agile software development
Schenck works closely with its customers to develop digital products. This helps the balancing specialist to optimize new software solutions and updates for existing applications according to customer needs. Further digital solutions are set to follow before the end of the year: the maintenance application, MaintenanceCenter, and the integrated management application, MySchenckONE. In the MaintenanceCenter, users can plan and document their machine maintenance tasks, thus gaining an easy overview of their machines' maintenance status. Schenck's service tasks can also be organized using this application. The traceability of historical maintenance data provides full transparency of the entire machine maintenance cycle. The MySchenckONE application enables customers to manage all systems and machines, including those from third-party suppliers. The entire balancing workstation is thus recorded digitally. In addition, the solution offers documentation management and a channel to the Schenck service.
The Schenck ONE applications are suitable for all balancing machines that can be digitally connected. Of course, these also include the new products, Pasio 5SC and Virio 5SC, which were presented, together with the Schenck ONE digital brand, at the EMO in Hanover.
Product portfolio also includes new machines

Both balancing machines are IIoT-ready, and boast an excellent human-machine interface. This ensures easy access to all important components as well as error-free operation and quick installation. The SafeControl machine concept also offers a number of safety features. These are not only relevant in direct operation but also facilitate permanent monitoring and easy remote maintenance, which in turn increases availability.
The second generation of the large Pasio 50SC, which was launched back in 2017, is now followed by the Pasio 5SC, a new compact version for rotors of up to 5 kg. The vertical balancing machine, Virio 5SC, closes a gap in Schenck's product portfolio. The new tabletop version is suitable for rotors in the common weight range of up to 5 kg. For this range, customers previously had to use the significantly larger Virio 15 for rotors of up to 15 kg.
Pasio 5SC

technical specifications

Virio 5SC

technical specifications

Maximum rotor weight: 5kg
Maximum rotor weight incl. connection: 5kg
Maximum rotor diameter: 150mm
Maximum rotor diameter: 300mm
Journal spacing: 15-240mm
Maximum rotor height over flange: 250mm
Journal diameter: 5-22 mm
Smallest achievable residual imbalance: 0.5 gmm/kg
Smallest achievable residual imbalance: 0.1 gmm/kg