RoDip® more efficient and flexible
About 20 million vehicles each year are protected against corrosion using RoDip®. The tried-and-tested rotational dip process from Dürr comes in two versions, the mechanical RoDip® M and the electric RoDip® E. Both versions have been enhanced, true to the motto "form follows function". The result is even greater efficiency, quality, and flexibility.
→ RoDip® is used throughout the pretreatment and electrocoating (EC) area and is now the best-selling rotational dip process worldwide. Turning the bodies around their own axis in the immersion tank results in corrosion protection that is both high quality and economical, since the immersion tanks do not need entry and exit inclines. Smaller tank volumes mean lower operating costs, as less energy and chemicals are consumed.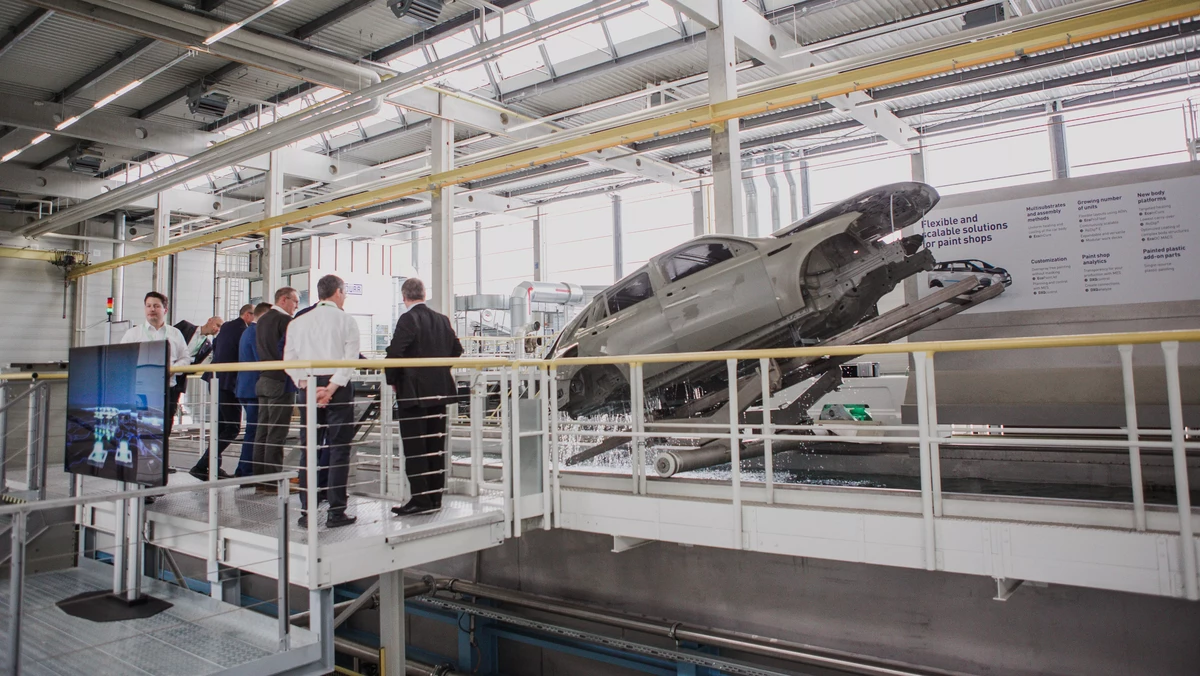 Traffic light for easy system status monitoring
The → RoDip® E is equipped with a new light concept on the trolley. It works in a similar way to a traffic light, so that the operator can monitor the system status with just one glance. The redesign of the mechanical components also means that the RoDip® E is now lighter and more robust. The RoDip® E trolley is the best proof that an imaginative, detailed design can pay off in industrial plant engineering. Just last year it won the prestigious Red Dot Award Production Design for the exceptional harmony of its form and function.
Gentle immersion protects delicate zones
A hallmark of → RoDip® M are powerful chain drives, which used to pull the carrier through the process line on both sides of the tank. This design has now been streamlined in favor of a single-sided design, which reduces maintenance. The 360° rotation is initiated by a V-shaped guide track arranged on the side of the tank, which now features an angled V. This makes it possible to reduce the speed of rotation so that more delicate body zones such as around the hood emerge more gently from the tank.
The RoDip® rotational dip coating process is suitable for pretreatment (PT), electrocoating (EC) and bodywashing. As part of the → Ecopaint WetSystem product family, it ensures perfectly coordinated conveyor technology in high-quality wet systems.