With clear responsibilities, we ensure that our sustainability concept is consistently driven forward and that we achieve our goals.
The Corporate Sustainability (CS) department bundles and coordinates sustainability activities in the Dürr Group. CS provides an interface for ESG issues between the different specialist departments. These include in particular environmental and climate protection, sustainable products and services, sustainable supply chain, human rights, employee concerns, occupational safety, and social commitment. The CEO of Dürr AG has overall responsibility for CS. The department supports the Board of Management in developing and establishing company-wide structures and processes for sustainability management. This includes the implementation of the sustainability approach, the alignment of Group-wide sustainability goals and the coordination of corresponding measures.
The Sustainability Council is the central decision-making body for sustainability issues in the Dürr Group. Its members adopt sustainability strategies and objectives, track the Group's progress toward meeting them and support the implementation. The CEO of Dürr AG chairs the Sustainability Council. The Supervisory Board advises and supports the Board of Management on sustainability issues and appointed one of its members as a sustainability expert. The Sustainability Council invites the sustainability expert to its meetings on a case-by-case basis.
Corporate Environmental Committee
The Corporate Environmental Committee (CEC) is responsible for the strategic direction and management of all environmental activities. It consists of the persons responsible for management and environmental management systems in the three subgroups and the Corporate Sustainability department, the head of which reports directly to the CEO. The CEC provides recommendations on relevant environmental aspects to the Sustainability Council, defines targets, and derives corresponding fields for action. It has been meeting quarterly since September 2022 to enable regular coordination between the subgroups and to drive forward the implementation of the climate strategy. The main responsibility for environmental issues lies with the management of our local companies, which are subject to site-specific environmental action plans.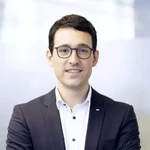 Hanjo Hermann
Senior Manager Corporate Sustainability
Dürr Aktiengesellschaft
Carl-Benz-Str. 34
74321 Bietigheim-Bissingen
Germany