Welcome to the Traineering Group.
Dürr Group Graduate Program
We provide young talents with responsible tasks in an international group and are looking for employees with the courage for innovative ideas in the digital age. The Dürr Group Graduate Program offers the ideal conditions for your career start in the Dürr Group: cross-divisional insights, first-class training courses and personal mentoring.
The 16-month Dürr Group Graduate Program offers a comprehensive overview of the Dürr Group with the companies Dürr, Schenck and HOMAG. You can expect rotations in four stations at different locations in Germany and abroad. You will also gain extensive experience in an international context during a stay abroad. In addition to an extended education and training program as well as networking events, you will be accompanied and supported by a mentor from the management. You will be able to shape the course of the graduate program according to your interests and development needs. After the 16 months, you will start in your target position which will be jointly defined towards the end of the program.
Do you have a very good degree, first practical and international experience and enjoy working in a global context? Then you are exactly the right candidate.
The Dürr Group Graduate Program is flexible, diverse and includes four specializations in both technical and commercial fields.
We offer the following areas:
Technology & Innovation
Software Engineering & Data Science
Finance
Human Resources
The programs start in October each year with a joint onboarding.
You can apply as from April, the final selection process takes place in July/August.
The duration is 16 months.
Fair Graduate Program Award
Our participants confirm: We offer a fair and career-promoting graduate program. Whether compensation, career perspectives or training opportunities - our Dürr Group Graduate Program is convincing in all areas and is significantly above the industry average.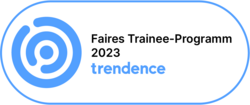 Graduate Programs: Technology & Innovation, Software Engineering & Data Science, Finance, Human Resources