Innovative concept
Ford World Excellence Award for Dürr Assembly Products
At the 20th Ford World Excellence Awards in Dearborn, Ford presented Dürr Assembly Products with an award for special achievements as a global supplier. In the "Aligned Business Framework World Excellence Award" category, the carmaker recognized, in particular, a project implemented at the Ford plants in Saarlouis.
Humans and robots simultaneously adjusting headlamps
companies were selected as finalists from
thousands of Ford suppliers globally.
The innovative concept involves human-robot collaboration (HRC) for adjusting headlamps on the new Ford Focus C519. The concept makes the worker's task more ergonomic and improves the adjustment quality for fog lamps. One key feature is the special Ride-On-Installation of the robots at the headlamp adjustment gantry, which dispenses with the need for additional robot positioning.
The fog lamps are in the front, lower bumper section and are normally adjusted from the front using a manual adjusting tool. During this task, the worker has to access the adjusting screws while bending down, which is ergonomically unsound. He then moves the tool through a hole in the bumper panel and positions it on the adjusting screw.
During a joint workshop with Ford VOME (Vehicle Operation Manufacturing Engineering), Dürr Assembly Products developed and evaluated alternative concepts for the existing process. The concept whereby robot and worker collaborate was found to be the best innovative solution.
In the following months, Dürr Assembly Products developed the HRC concept in detail, together with Ford and KUKA (robot supplier), as part of a feasibility study. Testing was performed in the factory buildings of Dürr Assembly Products in Püttlingen (Germany), where the production environment was simulated as closely as possible. This enabled the team to make predictions about plant availability and process capability.
Based on these results, Ford decided, at short notice, to integrate the concept for fully automated headlamp adjustment into four headlamp/driver assistance system test stands, which were just being built at the time.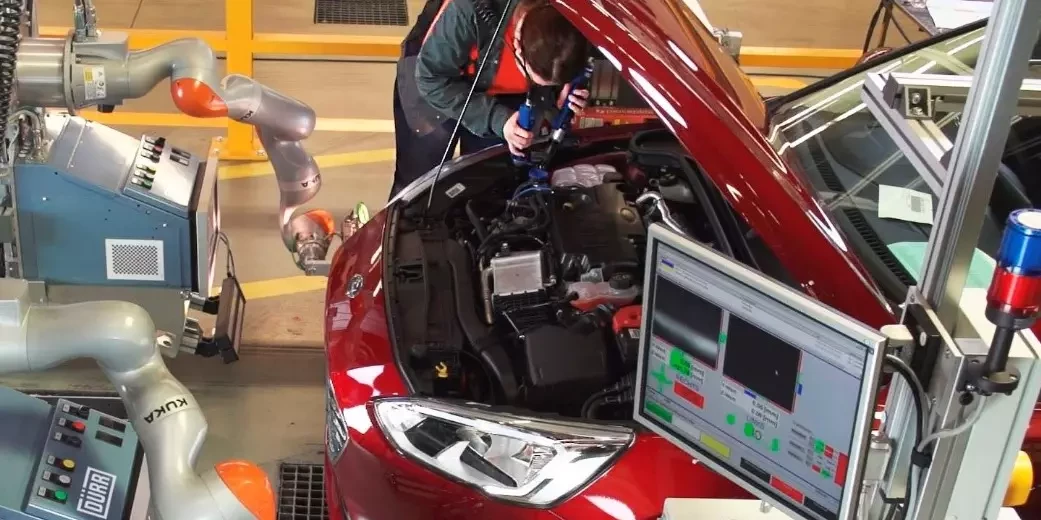 At the Ford plants in Saarlouis, humans and machines work together on the same vehicle without any safety devices. While the worker adjusts the main headlamps, the robots take care of the fog lamps in the lower bumper section.
The robots are installed above the light collecting boxes at the Z column of the aluminum heavy-duty portal. This dispenses with the need for additional robot positioning or larger robots.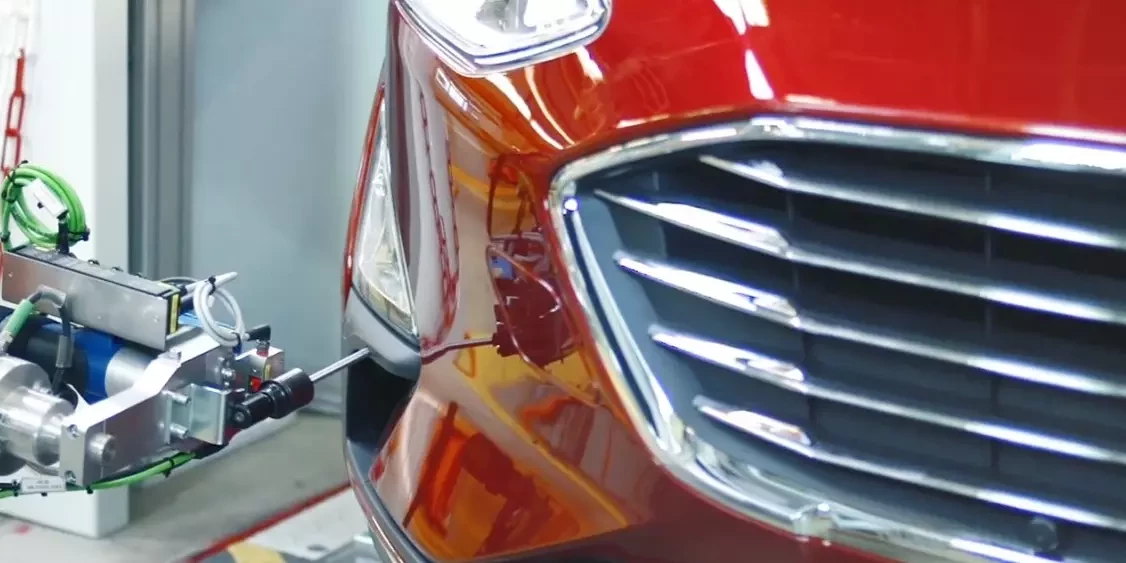 The adjusting tool mounted on the robot hand is developed by Dürr Assembly Products. It consists of an adjusting screwdriver and a camera system and ensures the accurate adjustment of the fog lamp.