New generation of test stands
Interview with Roland Spieß, President & CEO of Dürr Assembly Systems
Dürr Assembly Products has introduced a new generation of test stands for semi-autonomous and autonomous vehicles. In the following interview, Roland Spieß, CEO of this leading supplier of testing technology, explains the trendsetting features of x-around and x-road curve.
MANY OEMs AND SUPPLIERS AIM TO DEPLOY HIGHLY AUTOMATED DRIVING BY 2020. THE GLOBAL AUTOMOTIVE INDUSTRY IS IN THE MIDST OF A TRANSFORMATION. HOW HAS DÜRR ASSEMBLY PRODUCTS PREPARED FOR THIS DEVELOPMENT?
In anticipation of this trend, Dürr Assembly Products started developing new concepts and systems for testing highly automated vehicles as early as 2016. So, in 2018 we are already in a position to launch these new technologies, based on our motto "Leading in Autonomous Vehicle Testing".
THE NEW TEST STANDS FOR AUTONOMOUS DRIVING WERE INTRODUCED AT THE CUSTOMER DAYS EVENT AT THE END OF SEPTEMBER. WHAT DID THE CUSTOMERS GET TO SEE THERE?
As a pioneer of test stands for driver assistance systems, we anticipated this future trend and have created a new generation of test stands. At the Customer Days, we introduced → x-around and → x-road curve to an international group of industry experts. We gave striking demonstrations of their versatile and unique features using test scenarios we had prepared in advance. The exchange and technical discussions we had with the international participants were also invaluable. Since the list of participants included not only top European OEMs and first-tier suppliers, but also vehicle and system manufacturers from North America, Japan and China, we had some interesting, discussions and new ideas.
WHAT ARE THE MOST IMPORTANT NEW FEATURES OF X-AROUND?
One key component of the end-of-line test area for semi-autonomous and autonomous vehicles is the multi-sensor calibration test stand, → x-around. This is where the sensors of autonomous vehicles are calibrated. A booth that surrounds the entire test stand and blocks external light sources keeps conditions constant. Furthermore, the x-around is highly flexible and can be expanded. The test stand can be individually adapted to the growing requirements of the vehicle sensors. New display options via monitors and beamers make it possible, for the first time, to show different calibration patterns and dynamic scenes. Aside from static calibration, it will also be possible to perform dynamic function tests, such as vehicle behaviour in typical traffic scenarios.
AND WHAT IS SPECIAL ABOUT X-ROAD CURVE?
→ x-road curve offers unprecedented opportunities for testing semi-autonomous or autonomous vehicles and is a real trendsetter. This innovative multi-function test stand is used for the dynamic testing of autonomous vehicles. In addition to the classic functions of a roller test stand, it enables vehicles to be tested at high speeds, including the steering function. No other test stand can better simulate real-life traffic situations. Incidentally, this additional function can be retrofitted into all existing x-road test stands.
THE ACCEPTANCE OF AUTONOMOUS DRIVING LARGELY DEPENDS ON THE SAFETY FACTOR. WITH THIS IN MIND, HAVE TEST SYSTEMS BECOME PARTICULARLY IMPORTANT?
Of course, avoiding or minimizing accidents is a key factor in the success of these systems. There are increasing social and individual expectations for these autonomous vehicles to achieve technical perfection. As a result, the correct calibration and reliable testing of autonomous vehicles have gained a whole new importance for our products. For years now, they have been setting standards in terms of accuracy, reproducibility and availability.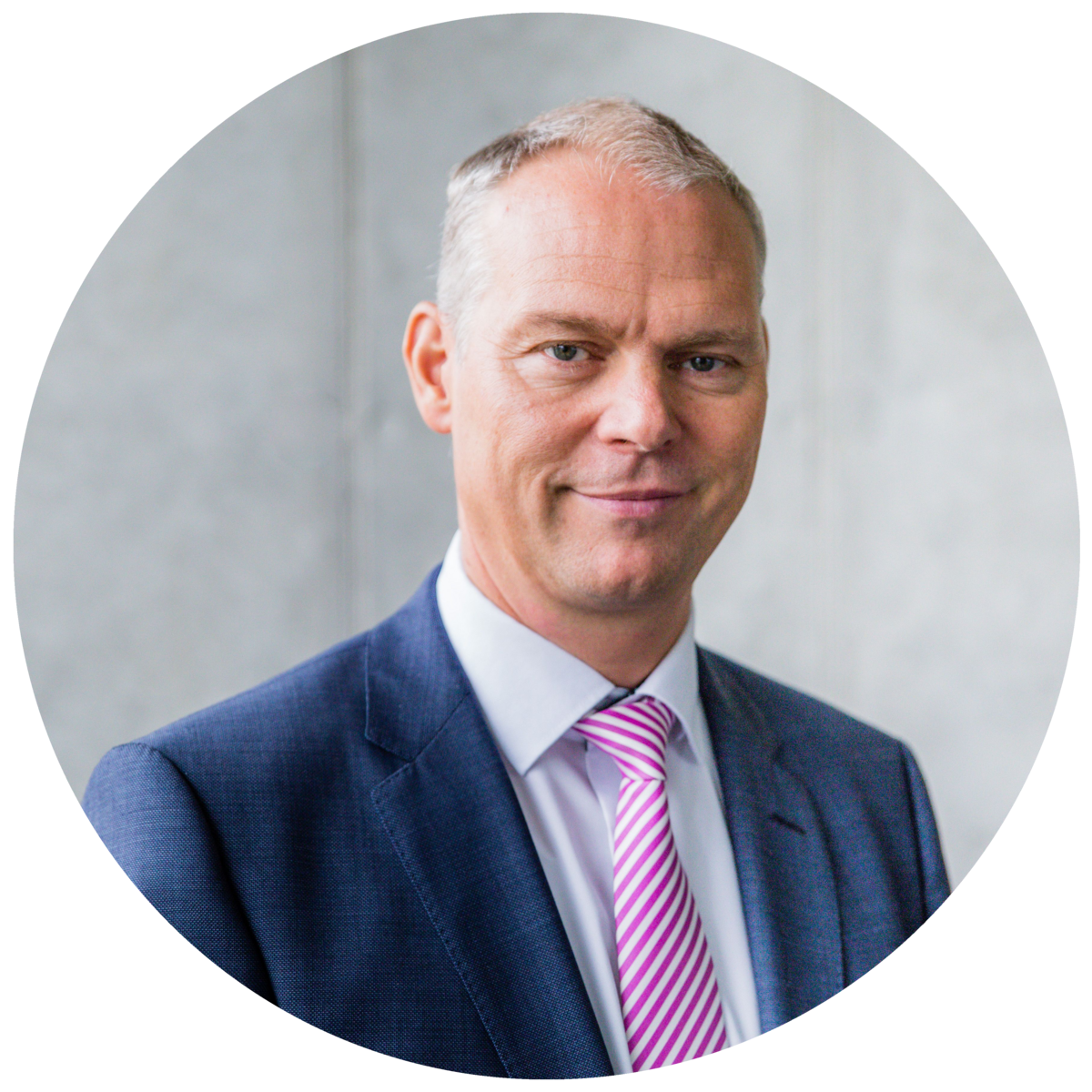 On May 1, 2018, Roland Spieß took over as CEO of Dürr Assembly Products, a subsidiary of the Dürr Group.
His previous career path: Following his mechanical engineering studies at TU Berlin, he initially worked as a trainee at Schindler Aufzügefabrik in Berlin. In 1997 he joined the family company, where he was responsible for the sales of machine tools and special machines for handling technology and assembly automation. In 2000 he took over as managing director.
Roland Spieß worked at KUKA from 2004 to April 2018, initially as a key account manager for customers from the automotive industry. During his time with the robot manufacturer, he spent three-and-a-half years in Detroit, USA, where he built the key account management in North and South America for customers from the automotive supply industry, before taking on the global lead for this. In 2010, Roland Spieß became Vice President of the Metal & Arc Welding division at KUKA Roboter GmbH in Augsburg, Germany, where he was responsible for sales and product management.
Autonomous driving: the transformation in figures
According to recent studies, sales in the industry will almost double by 2030, increasing to 6.6 trillion US dollars from 3.4 trillion today. Aside from new mobility services and electrification, autonomous driving will play a major part in this increase in sales.
In 2016, only around one percent of vehicles sold were equipped with simple, semi-autonomous vehicle functions. Now, 80 percent of the top ten OEMs have announced the introduction of highly autonomous technology, which is due to be ready for the road by 2025.
Sales in the industry in US$.
HOW IMPORTANT IS THE CLOSE COOPERATION WITH OEMs? TO WHAT EXTENT HAVE THESE BEEN INVOLVED IN THE DEVELOPMENT PROCESS OF THE NEW TEST STANDS?
We were – and still are – dependent on cooperating with OEMs, first-tier suppliers, partner companies and universities, especially when it comes to the new test stands. Due to the complexity and multiple aspects of this topic, finding a holistic solution is only possible together with several cooperation partners. Here it is important to keep an eye on the customers' problems to develop the right use cases.
CAN YOU TELL US MORE ABOUT THIS KIND OF COOPERATION?
Yes, sure. One of our most important cooperation partners is AVL List GmbH. With our new x-road curve and AVL List's simulation platform, we demonstrate – for example at our Customer Days – how simulation and vehicle testing can be efficiently combined. This allows us to draw conclusions on how reliable driver assistance systems are before the vehicle is delivered to the customer.
As a pioneer of test stands for driver assistance systems, we anticipated this future trend.
WHERE WILL DÜRR ASSEMBLY PRODUCTS FOCUS ITS DEVELOPMENT IN THE FUTURE?
Autonomous driving not only offers new opportunities for consumers but also affects the manufacturing process. The potential of autonomous vehicles could also be used for the driverless movement of vehicles following assembly. The driverless movement of vehicles through the end-of-line test stands is only the beginning. Fully automated testing and adjusting processes complete these future scenarios.
Consequently, our development focus is on the continuous automation of end-of-line test stands, for example through the use of collaborating robots, which can perform tasks, such as headlamp adjustment, alongside the worker. A further focus is, of course, on Industry 4.0 and IIoT. Here the aim is to provide existing and additional system and process data in a way that enables customers to make their production and maintenance processes more efficient through new apps and services.