Sharp Edge
Painting cars is an art in itself. Painting stripes or contrasting colors on car bodies costs manufacturers a lot of time and material. EcoPaintJet offers a solution. Dürr's new system works so precisely that not a single drop of paint misses its target.
The robot arm glides over the car body; the applicator at the end of the arm applies black paint in clean swathes. The black strip becomes gradually wider, its lines standing out razor-sharp from the background. Developer Hans-Georg Fritz is delighted with this success. "We have finally found a way to apply paint with maximum precision and without any waste." Known as EcoPaintJet, this Dürr method has been in use in the automotive industry since last year.
In developing the EcoPaintJet, Fritz and his team have found a solution to a problem which the industry has been working on for a long time. Anyone who has ever tried to apply glitter paint using a spray can will be familiar with the problem. The paint lands not only on but also next to the item to be painted. In car factories, this problem has been given a name: experts refer to it as overspray.
Over the years, developers at Dürr have managed to significantly reduce the amount of overspray thanks to better atomizers. However, even with the best technology currently available, at least 20 percent of paint still misses the car body and goes to waste.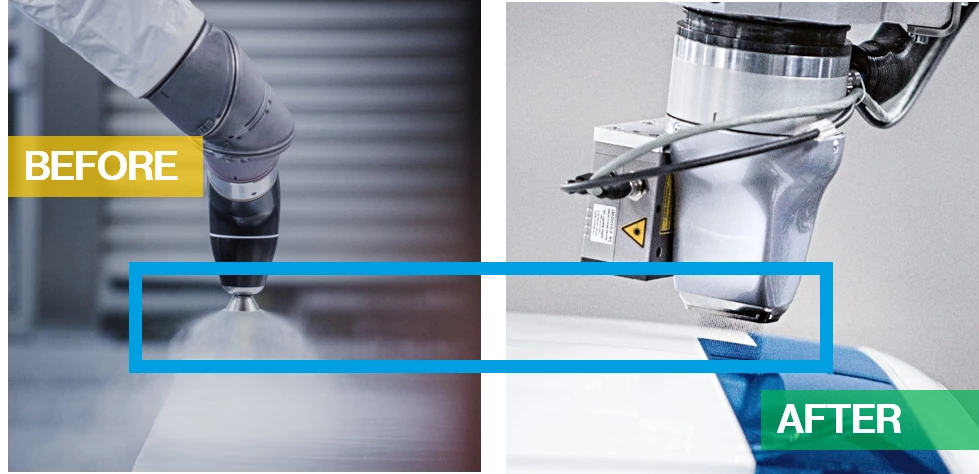 Precise paint application is especially important when manufacturers paint cars in several colors. This is happening more and more often, because customized vehicles are on trend. Some buyers request cars with decorative stripes on the hood, while others want the entire roof to be painted in a different shade. These contrasting colors are particularly suitable for electric vehicles. The large batteries located in the vehicle floor lead to an increased height in some models. Applying the right stripes to the rocker panel or where the roof meets the side panel makes these cars look flatter and sportier.
This elegant look does, however, take a lot of effort to produce. First of all, the entire car body must pass through the painting line. Once everything has dried, workers apply masking film and only leave certain areas exposed. Another paint cycle then follows, after which the masking film is removed. This wastes working time, paint and masking material – a costly method, not to mention the damage caused to the environment. Some painting lines process tens of thousands of car bodies per year that are painted in several colors.
The secret of the nozzle plate
The initial ideas for a more cost-effective method were conceived back in 2008. At Dürr's technical center in the corporate Bietigheim-Bissingen headquarters, developers were working hard to come up with a solution. There they have access to laboratory benches and a paint booth with a robot to put the newly developed components to the test straight away. Hans-Georg Fritz picks up a very thin metal plate. "This is the nozzle plate, the centerpiece of the EcoPaintJet", says the chemical engineer. Upon closer inspection, one can see more than 50 tiny holes on the surface. Rather than discharging droplets, these holes allow precisely metered paint jets to pass through and onto the car body.
Before the nozzle plate was completed, there were some important questions to answer. At what speed should the paint hit the car body? How small should the holes be and how large the distance to the surface to prevent the jets from breaking into droplets? Each answer required research, simulation and countless tests.
Even creating the tiny openings on the nozzle plate was a challenge. "Anyone who has ever drilled holes in a wall will be familiar with the problem", says Fritz. The holes almost always end up a little wonky. For the nozzle plate this means that the paint jets would not be equally spaced when hitting the car body, so paint would be missing in some areas. And how was the problem solved? Fritz grins. "This remains our secret."
The EcoPaintJet applicator, which is positioned at the end of the robot arm, works as precisely as an inkjet printer. Nevertheless, Dürr did not adopt the same operating principle. "Ink is like water, whereas paint is viscous, which is why it's much more complicated to process", explains Fritz. A single blocked nozzle could cause ugly and expensive mistakes in the painting line. For this reason, large manufacturers of car paints were also involved in this development. For years they would create new mixtures – until the quality was just right.
Speaking to Hans-Georg Fritz, it soon becomes clear that the EcoPaintJet not only offers accurate paint application. "The applicator is embedded in a digital system." A robot arm moves it over the car body securely and in the most effective way at a 30-millimeter distance. In doing so, it follows the instructions of the software in which the car body measurements are stored. However, there is a catch. "Even car bodies of the same model have minute differences", says Fritz. Discrepancies of up to two millimeters are common – too much for a perfect paint finish.
This is why, prior to painting, a camera scans the entire surface within a few seconds and compares the measurement results with the stored data. A special software program in the control system then corrects all lines of paint due to be applied by the applicator. This device compensates for any waves and curves by turning slightly at the right time, thus adjusting the shape of its lines to the car body. "Only if all influencing factors are perfectly matched do we get an optimum paint finish", says Fritz.
The EcoPaintJet went into operation in the first car factory in 2019. Going forward, it is expected to be used in an increasing number of new painting lines, and even existing plants can be retrofitted. According to Product Manager Meinhard Lutsch, there is a huge interest in the new technology generally. Not only because it eliminates any additional work previously required in the manufacture of multi-colored cars, but also because it makes production more sustainable: it lowers the energy consumed during car body drying by up to 25 percent. And it saves around 15 square meters of masking film per car.
We have finally found a way to apply paint with maximum precision and without any waste.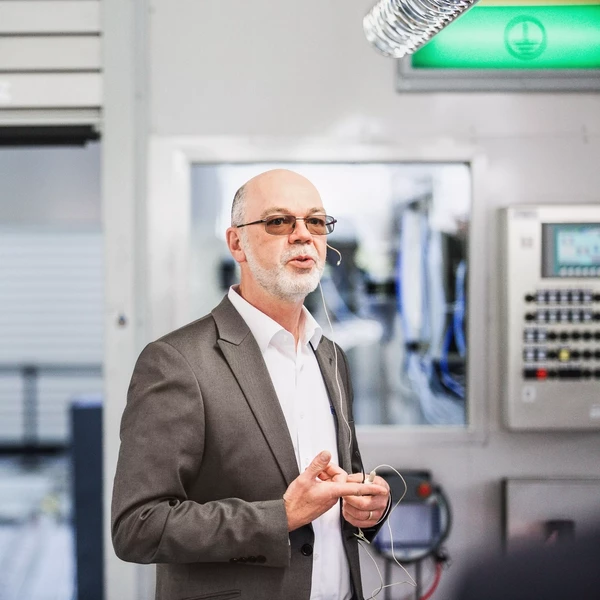 Soon to be used in aircraft production?
There is no other area where customers' paint application demands are as high as in the automotive industry. This is why the technology must be especially sophisticated – and other industries can adopt it without any problems. "We are in contact, for example, with a manufacturer of garage doors", says Lutsch.
The developers at Dürr firmly believe that painting without overspray will prevail. They therefore want this technology to become even more versatile. Their latest model is called EcoPaintJet Pro. Unlike its predecessor, each individual hole in this model's nozzle plate can be opened and closed. "This enables products to be customized even more", says Lutsch. It will lead to previously unimagined opportunities for applying graphic elements to car bodies in series production.
Aside from carmakers, aircraft manufacturers are also interested in the EcoPaintJet Pro. They could use it to apply some logos and decorations to their planes more quickly and easily.
The engineers and software experts at Dürr are already thinking up the next vision. They want to be able to paint ever-larger areas of a car body without generating any overspray – and one day even entire vehicles.