CENTATEQ smartBox: deep insights into the machine
HOMAG developed an innovative presentation medium
Customers of HOMAG can take a sightseeing flight through a window production machine with all of its components and processing steps with the CENTATEQ smartBox. In line with the digitalization strategy, the Dürr subsidiary relies on innovative tools for presenting the product portfolio.
Many of us know the scenario from buying a car: Together with the dealer or at home in advance, you can configure your future vehicle with the desired color, rims and interior equipment.
It is similar with the CENTATEQ smartBox: It allows customers to configure their individual solutions via an intuitive touchscreen control and to obtain information on the processing steps and all technical components. Using various modes, users can study the advantages of the equipment variants as well as detailed technical information and add them to their own solution.
At the Open House "HOMAG Treff" in Schopfloch (Germany), employees from Sales took the interested visitors on a customer journey using the smartBox: Which window profile would the customer like to produce? How many units would they like to produce per day? What are their requirements when doing so? HOMAG uses the answers to recommend a machine configuration. In the next step, customers could discuss individual components and change them, for example to suit the budget.
The unique setup with three high-resolution monitor levels allows the interested customer to look into the machine as a whole or at individual components through the smartBox. The information package is complemented by videos and additional product explanations.
"This type of presentation medium exists neither in our sector nor at other large technology companies," Daniel Hofius from the Trade Shows & Events department of HOMAG Group Marketing found out while preparing the concept.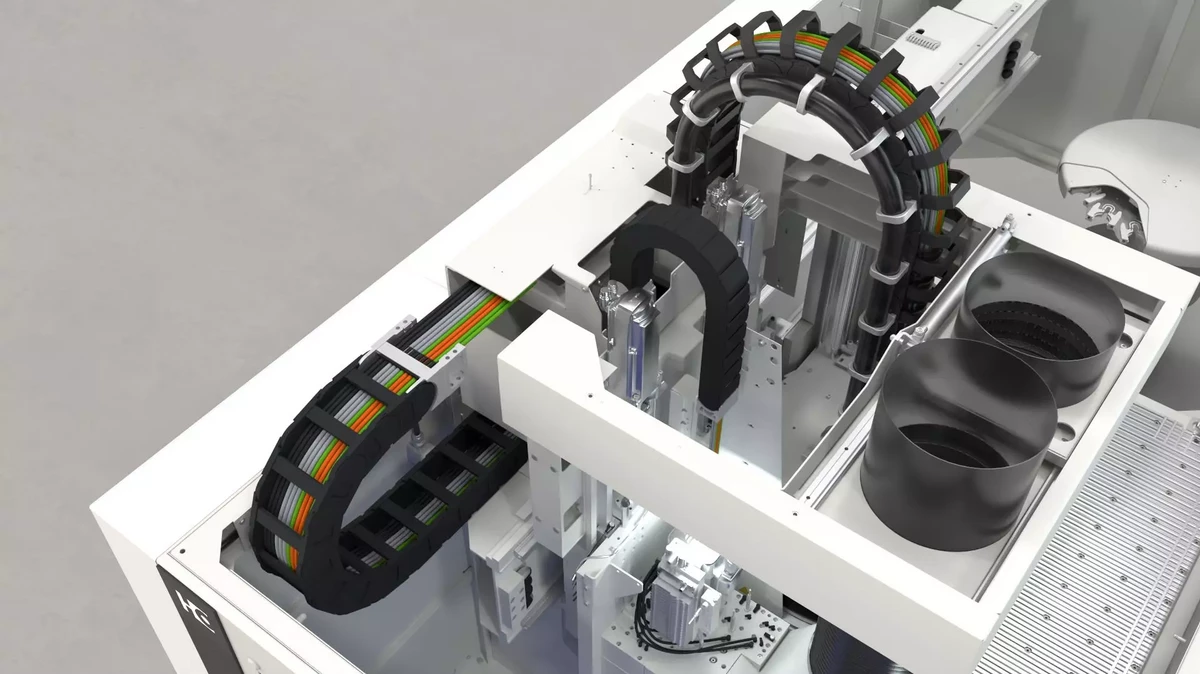 The data of six CENTATEQ window production machines is currently available in the CANTATEQ smartBox. Further versions for other products are planned. The smartBoxes will be available at large trade shows as well as smaller events.
"We will still set up our machines at our numerous trade shows, but we will be able to focus on the new products and show the rest via the smartBox," explains Daniel Hofius.
The smartBox also has a sustainable aspect: "We need less space and power at trade shows, and transport and installation expenses are reduced significantly," Daniel Hofius lists the advantages. The smartBox is an element of the "trade show concept of the future" on which the HOMAG global trade show team has been working consistently for some time now.
60 years of HOMAG, 60-day Treff
Many trade shows and conferences were canceled this year due to the coronavirus. By contrast, HOMAG was not just holding on to its HOMAG Treff, but turning its traditional in-house trade show into a 60-day global event to match its 60th anniversary.
The program included over 500 events in 8 locations between September 21 and November 18. Participants could use live.homag.com to book limited tickets for face-to-face events including tours, demonstrations and lectures. One example of such an event is weekly user meetings on a wide range of technical topics. For this purpose, the showrooms in the locations in Germany were equipped with the latest machine technologies, software and digital apps.
Alternatively, customers could also sign up for online events. A moderator presented the selected topic live in a specially equipped studio. The latest technical demonstrations and videos were recorded. Participants could submit questions to the speaker using the chat function.
HOMAG was also offering the opportunity to arrange individual appointments for an online dialog and online live technology demonstrations. For those unable to attend live, the recorded events are available in a library for later viewing.
"With a combination of live events and online tools, we demonstrated our digital expertise while maintaining our customer focus," says Dr. Markus Vöge, Executive Vice President Global Sales and Marketing."