Interactive Support+: The expert is closely involved
New solution of Schenck for service and commissioning
Schenck RoTec recently started using Support+, a new solution for commissioning and service operations. It optimizes response times and – despite travel restrictions in times of COVID-19 – the customer can be helped on site.
A typical scenario: An urgent repair is in order at a customer. A technician is on-site, but needs support from a Schenck specialist. This specialist is located in Darmstadt (Germany) and opens a digital conference room with Support+. The technician logs in to the platform via a link he received in advance.
"As soon as the technician on-site and the Schenck specialist are connected via Support+, the expert can see the situation on-site as if he was there in person. He can start solving the problem in direct dialogue with the technician", explains Marco Jeßberger from the service team at Schenck in Darmstadt.
As a special machines provider, Schenck offers a wide product portfolio with many customer-specific variants. Consultation with the specialist departments at the head office is therefore often helpful for a service operation.
Clear and efficient assistance
With Support+, possible questions from the colleagues on-site can be answered immediately and, in contrast to a conventional telephone call, visual support allows them to be asked more efficiently. Augmented reality functions allow experts to show the technician interactively where he should take a closer look or take action during the live broadcast. He can also take a photo of the current scene at any time and use arrows, texts, or interactive elements to enhance explanations. This makes the assistance even clearer, even across language barriers.
The technician on-site is provided with a detailed view of the expert's information on his mobile device (data glasses, smartphone, or tablet). Data sheets or operating instructions where the expert has highlighted relevant sections can also be displayed in this way. The optional use of data glasses allows the technician to work with hands free and to use voice control to operate Support+.
If an unexpected problem arises during a service call, the expert can simply consult further specialists, no matter where they are in the world. Together, they can then find a solution quickly and efficiently.
The Schenck team has been working on this expansion of their support concept since the beginning of the year. "Due to the coronavirus, the topic has gained even more importance and dynamism," reports Marco Jeßberger.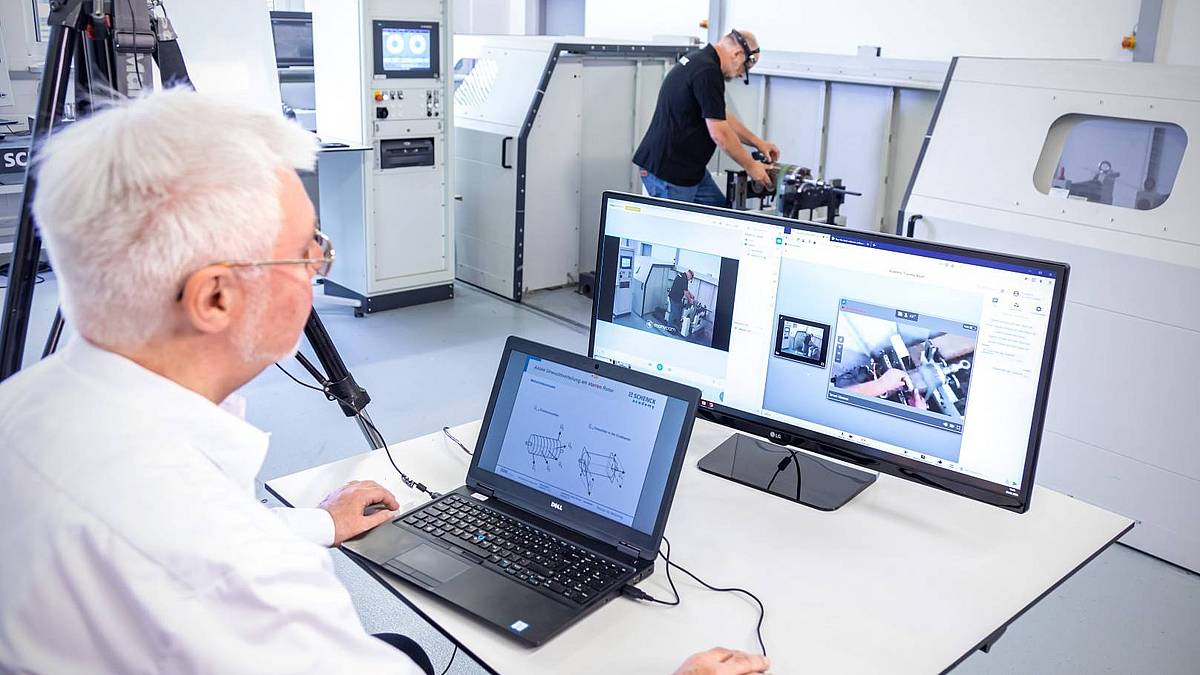 Initial field tests already took place in mid-May. Polish employees got support from Germany via Support+ with commissioning a prototype. "We were also able to carry out more complicated customer-specific tests successfully", reports Edis Maslic, commissioning engineer at Schenck RoTec in Darmstadt.
The team in the USA has also already used this service product successfully. Schenck is therefore planning to further roll out the solution internationally.
"Support+ enables us to help customers even faster through optimized response times", says Marco Jeßberger. "We are also making an important contribution to sustainability because less business travel is required."
Fields of application for Support+:
Troubleshooting

Application engineering

Commissioning

Technicians' support for special topics

Internal Trainings

Addition to the on-site seminars for customers

Virtual company tours for customers

Preliminary acceptance with customers

Spin testing with customers
Advantages:
Optimizing response times

Ensuring projected timelines

Maintaining customer contact despite travel restrictions