Potential savings shown quickly
Dürr supports automotive customers with Energy Saving Estimation Tool
In the automotive industry, there is an increasingly strong focus on sustainability. Many manufacturers are pursuing the goal of climate-neutral production. Saving energy is therefore the order of the day. Dürr supports its customers' green ambitions. Find out why an Excel spreadsheet – of all things – plays an important role in this.
To demonstrate green credentials, automakers should meet the highest sustainability standards, and not only in greenfield projects. Existing plants must also become more eco-friendly. But what measures are feasible here? To what extent can resources actually be conserved? And will all this time and effort pay off? To provide customers with answers to these questions, Dürr has been using the Energy Saving Estimation Tool. It was developed by a team of experts from sales and service.
Its idea is simple: In discussions with customers, Dürr employees can show potential savings quickly and easily. The data for the paint shop to be modernized is entered into an Excel spreadsheet. Thanks to key figures already on file, such as country-specific climate data and energy costs, it takes only a few mouse clicks for the customer to receive clear information on how many megawatt-hours of energy and how much CO2 per year can be saved by means of a specific modernization measure. Another column shows how great an area of forest would be required to store this amount of carbon dioxide. These figures, specifically calculated for a customer's plant, can instantly help that customer decide whether the respective measure should be implemented.
Figures speak for themselves
The Energy Saving Estimation Tool has been used in many customer discussions over the past few months – and the feedback has been positive throughout. In total, the tool currently takes into account 15 easy-to-implement energy-saving measures in plant engineering. These include the installation of a heat exchanger and the use of the intelligent EcoSmart VEC air management system.
Aside from these smaller, individual measures, the tool can also be used to model the upgrade of an entire spray booth. It is thus also suitable for modeling larger brownfield projects. In this case, the tool takes into account not only the plant parameters but also Dürr solutions from application and environmental technology, which are also used in the spray booth. This enables the sales team, together with the customer, to draw comparisons between, for instance, booths with and without a dry separation system or between manual painting and using robots.
Bertram Benning and Balaji Ramachandran were instrumental in developing the Energy Saving Estimation Tool. Where do the two Dürr employees see the benefits of their Excel tool?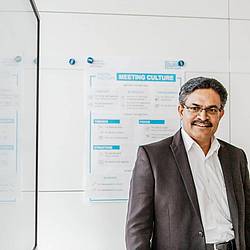 "Saving energy, CO2 and solvent is becoming an increasingly important investment reason for our customers. The quick and straightforward calculations provided by our tool can instantly help customers make a decision. It can also be easily used during a video chat, which has proved very helpful especially during the pandemic." Balaji Ramachandran, Senior Expert International Service Support at Dürr.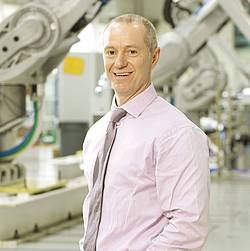 "By using the tool to model all potential energy savings in the painting process, we are sending two important messages to our customers: Dürr not only delivers technology that meets high standards from an environmental point of view. We also offer everything from a single source, which means production is optimally harmonized and thus offers maximum efficiency." Bertram Benning, Global Proposal Assurance in the Dürr sales team.