Remote first aid
Dürr subsidiary Schenck RoTec uses a new, web-based software for the commissioning and servicing of machines. This allows the company to support customers even faster and reduce the number of time-consuming trips. The digital tool is also used for training new employees and in sales.
The customer is very satisfied with the balancing machine from Schenck RoTec. After the routine changeover to a new rotor type, the machine suddenly delivers conspicuous measurement results. The operator on site knows the machine well, but realizes that the help of a Schenck expert is needed.
Customer support is often confronted with situations like that. Up until recently, a Schenck expert traveled to the customer as quickly as possible in such cases – not only causing costs, but also upending schedules and increasing work pressure.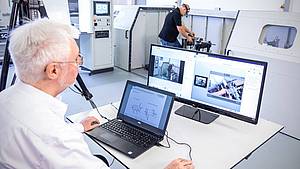 Since May 2020, it has been possible to solve even complicated service calls at Schenck RoTec right from the expert's desk – thanks to a digital tool called Interactive Support+. It allows the Darmstadt-based specialists to virtually look over the shoulder of machine operators and provide support as if they were standing right next to them.
Interactive Support+ is based on a technology that has already proven its worth in a simplified form for remote maintenance via tablet or smartphone: Both parties connect via a web-based program, thus being able to view and discuss technical details by video.
Support+ enables us to help customers even faster through optimized response times.
Nadine Egner, Director Business Unit Service at Schenck RoTec
Support via video glasses
However, Interactive Support+ can do much more. "Extracts from the technical documentation and operator instructions, for example, can be shown directly on the display," says Nadine Egner, Director Business Unit Service at Schenck RoTec. If the technician at the machine does not work with a tablet or smartphone, but rather wears data glasses equipped with a camera, he even has both hands free and is able to directly implement the instructions of the Schenck specialists.
Schenck RoTec expects to reduce the number of visits to the customer and on-site assignments thanks to the new system – thus also contributing to climate protection. In 2019 alone, employees of the company booked 771 flights, which is equivalent to 1,614 tons of CO2 emissions. "We estimate that we will be able to save one tenth of air travel in the long run," says Nadine Egner.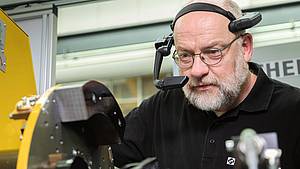 Three questions for Nadine Egner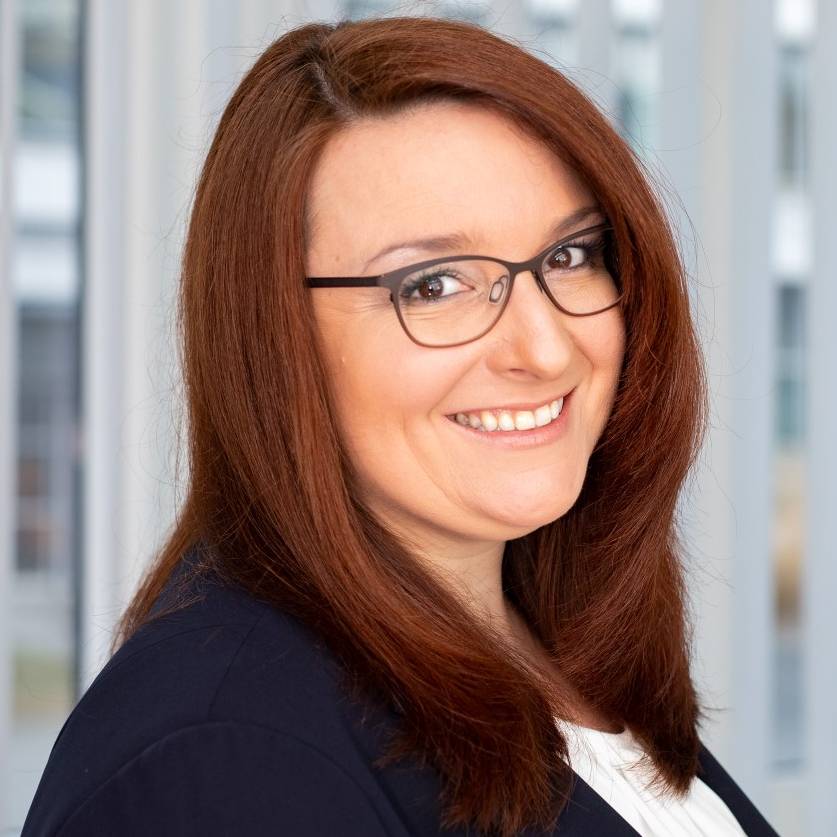 Nadine Egner, Director Business Unit Service at Schenck RoTec
What role does the introduction of interactive support play for your company?
It is part of a cultural change that allows us to work faster and more flexibly at Schenck RoTec. Our experts can bring their experience to bear on a larger number of service cases. Fewer on-site assignments reduce our travel costs and emissions – and, of course, employees and their families benefit when they can spend more time together at home.
Did the Corona pandemic accelerate the roll-out?
Absolutely. Planning was already underway before 2020. However, when restrictions meant that many trips were no longer possible and important commissioning and service assignments could not be carried out, we pushed ahead with the implementation together with the entire team even faster than planned.
How has the new support been received by customers?
Very well. They are pleased that their machines are up and running again more quickly and that the effort required for servicing is reduced. Some customers even made clear to us that the costs were not that important to them. They simply want us to help them as quickly and effectively as possible.
FIELDS OF APPLICATION FOR SUPPORT+
► Troubleshooting
► Application engineering
► Commissioning
► Technicians' support for special topics
► Internal trainings
► Addition to the on-site seminars for customers
► Virtual company tours for customers
► Preliminary acceptance with customers
► Spin testing with customers
This applies not only to the service unit, but also to other areas of responsibility, such as when a customer's employees need to familiarize themselves with a machine. They can take a close look at technical components while the trainer or inspector stands in front of an identically constructed machine explaining the details. A virtual tour of the company is also conceivable. Customers can also take part in a pre-inspection remotely – without having to travel for that purpose. A Schenck expert with data glasses can nonetheless explain the functions to them without any difficulty in the remote plant.
Needless to say, however, there will still be physical meetings at Schenck RoTec in the future, says Nadine Egner. "The goal is to make work easier in certain situations and to expand our product portfolio." Neither software nor data glasses can replace in-person conversations with the customer.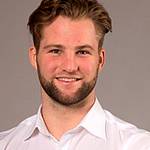 Marco Jessberger
Schenck RoTec GmbH
Landwehrstr. 55
64293 Darmstadt
Germany