Let's get started
Every year, dozens of young people start vocational training in the Dürr Group. Whether they complete vocational training in mechatronics, computer science or in another profession: As experts, they will soon help shape the future of the company. There are currently over 200 apprentices at the major German locations of Dürr, Schenck and HOMAG alone.
It is particularly important for the company to train young people internally and bind them at an early stage. This makes it easier for them to start their career after completing the vocational training. "Those who were trained by the company have excellent skills in their field and are familiar with the processes within the company," says Hans-Uwe Klaiber, vocational training manager at Dürr Systems.
Other cultures experienced
The whole spectrum of the industry can be experienced within the company. "We offer apprentices the opportunity to spend two to three months abroad," says Steffen Stippl, HOMAG vocational training manager at the Schopfloch site. Those who have experienced other cultures and ways of working far from home will find it easier to collaborate on international projects later on.
The Dürr Group is also working to offer thorough training to young people at its foreign locations – for example in the US. In Southfield, Michigan, Dürr is one of the few companies to offer dual training based on the German model. The apprentices even receive remuneration, which is not common in the US. Dürr won an award from the German American Chamber of Commerce for this special program.
Below, five employees tell us why they decided to learn their desired profession under the umbrella of the Dürr Group.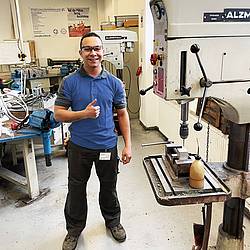 Philipp Tribble, 21, vocational training in mechatronics, Darmstadt
"I was already enthusiastic about technology when I was in school. I remember getting a construction kit at age 14. I was able to assemble a small electric motor from the parts, which I found exciting. Maybe that is why I wanted to start the vocational training as a mechatronics engineer after finishing vocational high school. Why at Schenck RoTec? Because I already knew the company. My mother works there, and I had jobs in production and warehouse during vacations when I was a student. The big machines and the friendly people – I really liked that. I spent the first year of my vocational training in the training workshop. Drilling, milling, metalworking – the basics of the trade. Now I work in the assembly hall. After completing my vocational training, I would like to continue working at Schenck or study electrical engineering."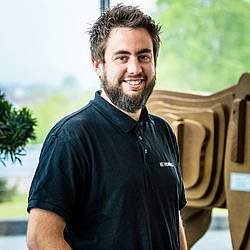 Christopher Kübler, 33, vocational training as a production technologist, Schopfloch
"I admit that I have chosen a very rare profession. In fact, vocational training as a production technologist has only been offered for a few years now. What I like is the variety of topics: Automation technology, process optimization, programming – an interesting mixture. A few months ago, I completed the three-year vocational training. I currently work in quality development at the HOMAG Group, looking for weaknesses in our processes in order to make them even better.
I am happy that I have found a job that perfectly suits me. After graduating from technical high school, I first wanted to become a teacher. Then I came across the profession of production technologist at an information event held by the HOMAG Group and quickly decided to do my vocational training at precisely this company."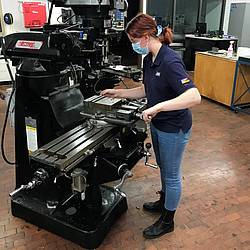 Kaitlin Bowen, 20, vocational training in mechatronics, Southfield, MI, USA
"I am in vocational training to become a mechatronics engineer at Dürr Systems in Michigan. I spend half of the time in the company and get to know the practical sides of the job. In addition, theoretical courses provide me with the necessary background knowledge. I really like the combined program that the vocational training managers have put together. A stay abroad was also part of my vocational training: I spent four months at Dürr in Bietigheim-Bissingen, where I had a wonderful time. There was so much to learn, plus the friendly people and wonderful surrounding area. It may sound strange, but I felt at home right away. My goal now is to obtain a bachelor's degree in electrical engineering. Maybe there will be an opportunity to be employed on a regular basis at Dürr in Germany for a while afterwards."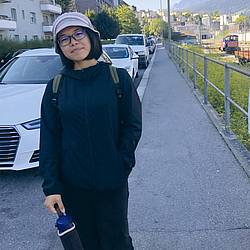 Siyu Chen, 21, vocational training as an electronics technician for industrial engineering, Schopfloch
"Electronics is a significant part of our lives, so I wanted to know more about it and completed an internship at the HOMAG Group. I immediately liked my colleagues. They answered my questions and assigned me smaller tasks. For example, I learned how to wire terminals. I found it particularly impressive to look inside a robot arm and understand how individual parts work together with the help of electrical impulses. Since September 2020, I have been learning the profession of an electronics technician for industrial engineering. When the vocational training is finished after three and a half years, I would like to study for a bachelor's degree and then continue to work for the HOMAG Group. Maybe even in my home country of China, which is a very important market for the company."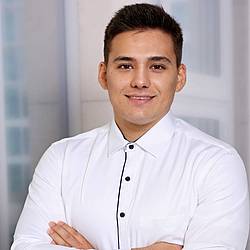 Leon Bentzien, 24, vocational training as an IT specialist, Bietigheim-Bissingen
"When I set foot on the Dürr Campus in Bietigheim-Bissingen for the first time, I was surprised: The modern architecture, the young and open-minded people – it was not at all what I had expected from a Swabian plant manufacturer. That is one of the reasons why I am absolutely sure that the vocational training as an IT specialist at Dürr Systems is the right thing to do. My father works for Deutsche Telekom, so I grew up with the internet. Computers and monitors have accompanied me throughout my life. After finishing vocational college, I worked for the German Armed Forces as an IT soldier for four years. Now I am curious to see what role digitalization plays in the corporate world. I'm currently working in digital support at Dürr. In the theoretical courses, I'm learning a lot about server technology and networks – future-oriented topics that fascinate me."