Reduce emissions in the wood products industry
Rodney Schwartz, Vice President Sales & Business Development-Americas of Dürr Megtec LLC, talks about the value proposition of Dürr Megtec being a single-source supplier offering a complete solution for the engineered wood products industry. In the following interview you will learn more about how a complete engineered systems approach, including application-specific process knowledge, can help ensure environmental compliance and further optimize the ecological footprint of companies.
How do you define exhaust air and gas purification systems for engineered wood products?
We treat two primary exhaust emission sources for this market. We treat the airflow from the green chip or veneer drying process, and we treat the airflow from board pressing operations. In the area of exhaust gas purification, we also treat the exhaust gas from energy production plants in wood products companies.
The equipment that is used is very dependent on the market regions. In the United States, for the drying process, we use → wet and dry electrostatic precipitators to treat the blue haze, and → regenerative thermal oxidizers (RTOs) to treat the volatile organic compounds (VOCs) and hazardous air pollutants (HAPs). On the press, we use scrubbers, RTOs and → regenerative catalytic oxidizers to treat the VOCs.
Engineered wood products include oriented strand board (OSB), medium-density fiberboard (MDF), plywood, particleboard, and wood pelletizing, among others.
In Europe and Asia, the regulations are quite different from those in the USA. In Europe for example, both the dryers and the presses are treated with scrubbers and wet electrostatic precipitators to reduce the blue haze. From what we see, the regulations in Asia are similar to Europe; therefore, the same products are necessary there.
RTOs are a key system component for controlling VOCs and HAPs. What benefits do customers enjoy with the CleanSwitch RTO?
The → CleanSwitch® RTO offers 20-plus years of application experience in the wood industry. The rotary valve used to change airflow within the RTO delivers much less pressure pulse during cycle changes, which provides smoother and more efficient dryer control.
In addition, we offer expertise in the application of the ceramics we use for heat recovery, which reduces energy consumption. We have tested and applied special ceramics in the industry for over 20 years. That's why, when a customer purchases a CleanSwitch® RTO, they can rest assured they are receiving a ceramic bed tailored to their mill and their application.
The CleanSwitch® is also unique in that it is designed specifically for efficient bed washes, which is a necessity in the industry. The CleanSwitch® also offers the highest control efficiency for the wood industry due to its unique design.
What are the other system components behind Dürr's turnkey clean-air solutions?
Our perspective is really one where the whole is greater than the sum of the parts. Along with the CleanSwitch®, our SonicKleen™ wet electrostatic precipitator removes sub-micron particulate and fumes from dryer and energy-system gas streams, with truly unparalleled uptime and reliability. Wet scrubbers provide high-efficiency particulate removal for dryers, press vents, and energy systems preventing buildup on the connecting ductwork and downstream equipment.
Our → selective non-catalytic reduction (SNCR) DeNOx systems utilize our high-efficiency, wear- and plug-resistant nozzles for injecting ammonia or urea solutions into the hot gas to chemically reduce the NOx into clean nitrogen gas and water.
We also provide → regenerative catalytic oxidizers to reduce gas consumption and provide lower operating costs. And, we provide cost-effective control of particulate emissions and opacity with our proven pulse jet fabric filter (baghouse) technology, dry ESPs, and cyclone dust collectors, which can be applied to a variety of particulate sources or used as a pre-cleaner to lighten the dust load on a secondary collector.
Finally, we offer → carbon adsorption systems for the recovery, distillation and purification of solvents, as well as heat-recovery systems.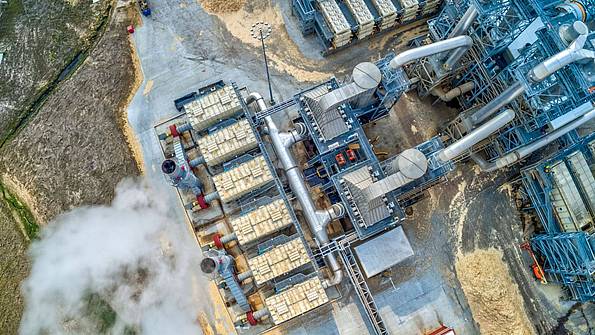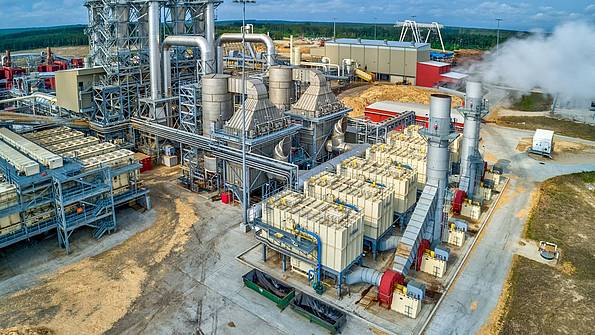 Here you can see Corrigan OSB LLC and the Dürr Megtec air emissions control technologies at its new oriented strand board (OSB) plant in Corrigan, Texas. Six CleanSwitch® Regenerative Thermal Oxidizers and two SonicKleen Wet Electrostatic Precipitators (WESP) were installed at the plant.
What else can you tell us about the value of a total integrated solution from a market-leading company?
Dürr Megtec is one of the pioneers to offer technologies proven to reduce emissions in the wood products industry. Fully understanding industrial processes, combined with expert knowledge of control technologies for managing multi-pollutant air emissions, enables us to offer customers optimized technical designs.
It all comes down to providing a complete solution from a single-source. When the whole is truly greater than the sum of the parts, our customers achieve reliable environmental compliance, reduced costs, and the convenience of working with an industry-leading supplier.
→ Find out more about clean air solutions for the engineered wood products industry.
About the brands Dürr Megtec and Dürr Universal
In October 2018, the Dürr Group has taken over the industrial environmental technology business of US company Babcock & Wilcox Enterprises, Inc. (B&W). The Megtec/Universal companies are fully consolidated within the Group. Included are facilities in major market regions and an extensive service network for providing customer support in established and emerging markets. The merged businesses of Dürr, Megtec and Universal now offer the broadest technology range of industrial environmental systems and related services available in the market. As part of Clean Technology Systems, Dürr's environmental technology division, Megtec operates as Dürr Megtec and Universal as Dürr Universal.
→ Here you can find more information about the acquisition.