A compass for the Group
What defines the Dürr Group? What values and mission do we have? Answers to these questions cannot be prescribed to a company. They must come from within the organization and be supported by the workforce. This is why the Dürr Group, with the employees' broad participation, has developed a uniform corporate statement.
When the Head of Corporate Communications and Investor Relations, Andreas Schaller, looks back at the process of the past few months, he is still amazed by the great commitment with which many colleagues took part in this project. CEO Dr. Jochen Weyrauch set the ball rolling when he initiated the development of a corporate statement for the Group as he started his role at the beginning of 2022. Mid-year, the project gained real momentum when the entire workforce was invited to participate in developing this uniform corporate statement.
The aim was to come up with realistic and credible definitions of vision, mission, values, and purpose for the company. Going forward, these four aspects are to represent a reliable constant for customers and workforce, create an emotional bond with the company, and provide guidance when taking decisions and setting priorities. "This kind of process cannot simply be completed in a small group with a top-down approach," highlights Schaller as project manager. This is why it was decided to get external experts Hans-Wilhelm Eckert and Jutta-Anna Schroer on board.
Through my contribution I was able to add a small "personal brick" to the foundation of the whole organization.
Maciej Stajewski, Managing Director of HOMAG Polska
I view this corporate statement we have developed together as part of a modern corporate culture that focuses on the employees' involvement, on their individual development, and on a shared system of values.
Dr. Jochen Weyrauch, CEO of Dürr AG
The key task of the two consultants was to gain an insight into the organization and start conversations with its employees. Interviews were planned and workshops prepared — face-to-face at the Bietigheim, Schopfloch, and Darmstadt sites as well as online for people abroad. The list of questions that Schroer and Eckert asked the participants was long. What highlights, low points, and turning points have there been in the history of the Dürr Group? What has turned the company into what it is today? Why do customers, qualified staff, and investors come to us? This is how around 80 employees from different origins, functions, lengths of service, and of different ages provided the initial input for the corporate statement that was to be created.
During the analysis phase, the results from the workshops and interviews were then consolidated. This led to some initial suggestions for wordings, which, following an approval cycle with the Management Board, were discussed with the entire workforce during face-to-face and virtual feedback forums. "The response was very positive. Our colleagues were pleased that their opinions mattered and that they could be involved in the process," says Schaller. Schroer adds: "When we asked what defines the Dürr Group and what kind of cultural development the company needs in order to be well prepared for the future, we often found we were pushing at an open door."
Developing our new corporate statement is more than a one-off initiative. It is intended to provide everyone with long-term guidance on the type of culture we want to practice at the Dürr Group.
Sandra Seiss, Deputy Chair of the Works Council Dürr Systems AG
Participating in this project made me think about what I have already experienced at the company, where the strengths of the Group lie, and how we can shape our future together.
Yurong Kang, Head of Administration & Human Resources at Schenck Shanghai
For over 20 years, Schroer has been supporting companies in their organizational development and change management. "During my projects, I always ask myself whether they are designed in a way that is sustainable," says Schroer. At Dürr, she immediately felt that the project was not about producing a shiny brochure, but that it was genuinely aimed at determining the essence of the company. "In this project, the participatory approach was paramount from the outset."
The rollout of the corporate statement in the Group is planned for the coming months. However, this does not mean the process is complete. "Cultural development is not a sprint but a marathon," confirms Schroer. It involves ongoing dialog to monitor the current status and whether the corporate statement is being put into practice. But it is worth it, as Schroer explains while referring to scientific studies: These show that purpose-oriented companies are more innovative than others, can recruit qualified staff more easily, and are considerably more resilient when faced with a crisis.
It feels amazing to know that the views of my colleagues from all over the world are reflected in the corporate statement and that I have also contributed to the result of something so great.
Lucas Sabino, Marketing Dürr Brasil
Systemic organizational development and management consulting

Together with communications consultant Dr. Hans-Wilhelm Eckert, Jutta-Anna Schroer supported the Dürr Group as an external expert in developing its corporate statement. Schroer, who studied psychology and sociology, says that even from her very first conversation with Andreas Schaller, she immediately felt that the project was intended to have a lasting impact. Since 1999, Schroer has been working as a consultant for organizational and human resources development, and as a trainer and coach. She has been self-employed since 2009. At the University of Munich, the University of Freiburg, and the European Business School in Oestrich-Winkel in Germany, Schroer has also taught topics such as systemic organizational consulting and conflict management. "To support people in the process of becoming and changing, to assist teams in their development, and to provide vitalizing inspiration to organizations are my key concern," she says.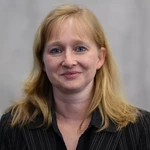 Martina Bausch
Officer Online Magazine
Corporate Communications & Investor Relations
Dürr Aktiengesellschaft
Carl-Benz-Str. 34
74321 Bietigheim-Bissingen
Germany