Next stop: abroad
Melanie Will moved from Bietigheim to South Africa for four months, and Ysaac Pérez came from Mexico to the Dürr headquarters in Germany. During the time spent abroad as part of their trainee program, both gained valuable experience that went far beyond the job.
Melanie Will jokes that she experienced all four seasons in one single day during the South African winter. It would start with a fresh air of spring in the morning, then it would turn warm and summery around lunchtime, before cooling down in the afternoon, often becoming really cold once the sun had set. Between June and September 2022, the 29-year-old spent part of her trainee program at Dürr in Port Elizabeth, around 750 kilometers east of Cape Town on the Indian Ocean.
With just under 100 employees, this location, flanked by palm trees, is considerably smaller than the Bietigheim headquarters. Yet it is one of Dürr's oldest foreign subsidiaries. "That's why it has close and long-standing relationships with the local automotive industry," the engineer notes.
Will lived with another Dürr trainee in an apartment overlooking the sea. "Once I even saw dolphins from our window," she remarks. She worked in internal project management in the field of conveyor technology. "My jobs included placing orders with suppliers, preparing internal schedules to establish when we could manufacture and put together certain parts and how to respond to potential delivery delays. This meant I had plenty of contact with local colleagues, suppliers, and customers," she explains.
In May 2022, Ysaac Pérez arrived in Bietigheim with mixed feelings of curiosity and nervousness. For the 26-year-old Mexican, it was his first ever stay in Europe. "I knew there were some exciting times ahead for me, but also quite a few challenges," he says. He was a bit worried about the cultural differences between Germany and his home country. But his worry soon dissipated.
After his bachelor's degree in finance, Pérez started as a trainee with Dürr in Querétaro, a city in central Mexico with around 850,000 inhabitants. There, he mainly worked in controlling. "That's my big passion," he says. He wants to work in this field when he finishes his trainee program. In Bietigheim, too, he supported the Controlling and Corporate Accounting department. His tasks included collating information and figures, analyzing them, and preparing them for reporting. He learned the most during joint discussions and his daily work with the relevant colleagues.
According to Pérez, finance is a rather abstract level of business. But he says that the more people you meet and the more insights you get, the more complete the overall picture you're in becomes. He notes that this also includes contact with the management level — not just professionally. "I once went to dinner with CFO Dietmar Heinrich, and another time I was invited to a barbecue," says Pérez. "I was very impressed that the CFO made time for me. This set me a good example and it's an attitude I would like to adopt when I take on a leadership role myself one day."
Melanie Will appreciates the openness and kindness of the South African people. "They were really interested, not only in me as a person but also in my professional career and in what I do in my spare time," she says. After she had mentioned that she liked running, she was immediately put in touch with a running group. She notes that people there are very keen runners anyway. There was a race almost every weekend, but coming together after these runs also played a big part. During these social gatherings, she learned a lot about the country, people, and local wines. That said, it was her trips to the South African national parks that left the most memorable impressions. "The landscape and wildlife over there are breathtaking," reports Will with enthusiasm.
She did have to get used to the frequent power cuts, which would sometimes happen several times a day, due to the scarce energy supply. That's when she had to make sure her cell phone was charged overnight so the alarm would work first thing in the morning. And she would clean her teeth by the light of her smartphone torch. Morning coffee? Not a chance! "And in the evening, we would eat a delivery meal by candlelight," she remembers. Even at work, there was not always enough electricity in all the buildings. "But the people there are flexible and make do," she says. She has adopted this laid-back attitude for herself — and has come to realize that certain things should not be taken for granted. Will has stayed in contact with South Africa. Aside from the friendships she has created, one reason to go back is the hike in the Drakensberg Mountain Range, which is still on her list of things to do.
During his time in Germany, Ysaac Pérez lived in Stuttgart, the capital of the German state of Baden-Württemberg. On his way to the city train to Bietigheim, he would buy himself a white coffee and a butter croissant from the bakery every morning. "I loved the butter croissants. You don't get them like that in Mexico," he enthused. He liked Stuttgart, too, with its architecture, the beer gardens, and the lively Schlossplatz (palace square) in the city center: "I had chosen the perfect time to be there. I was there for the whole summer, from May till August," he says. He traveled a lot at weekends, to Munich or Berlin, but also to the Czech Republic, Austria and Switzerland.
Even though he was happy and made new contacts in Germany, he still missed his friends and family sometimes, as well as Mexican food with its many spices. He did like the German curried sausage, though, which he declares with a smile.
He also noticed cultural differences at work. "In Mexico, when we get to work on a Monday, we first chat about the weekend and our families," says Pérez. In Germany you say "Hello. Good morning" and then you start work. That took some getting used to. But it was this focus on the job that he also appreciated. "I would like to live in Europe one day," he remarks. "This will help me move forward in my career."
Will and Pérez agree on the message they want to share with other trainees: "Make the most of it, especially your work experience abroad, be open, and ask questions," advises Pérez. Will says: "But also have fun and use the opportunity to get to know the multiple facets of the Dürr Group."
The Dürr Group Graduate Program

With its 16-month trainee program, the Dürr Group offers graduates of different disciplines exciting career prospects. The trainees complete four stages — including one abroad — and receive comprehensive insights into different departments and responsibilities. Their active involvement in shaping the program, along with a permanent employment contract, personal mentoring, wide-ranging opportunities for further training, and networking events ensure that the talented young people gain maximum benefit from their practical training within the company. It is therefore no surprise that the highly qualified young staff are in great demand with the various departments once they have completed the graduate program.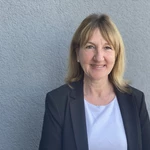 Simone Beutel
Corporate Human Resources
Dürr Aktiengesellschaft
Carl-Benz-Str. 34
74321 Bietigheim-Bissingen
Germany