Coating for the future
Demand for electric vehicles is increasing – and with it the production capacity for lithium-ion batteries. Battery cell production therefore plays a key role, since it determines the cost and longevity of the entire electric vehicle. Dürr provides the coating technology for battery electrodes from a single source – and much more.
In Europe, 460,000 electric cars were registered in 2020. Although this only corresponds to a market share of 4 percent, the proportion is twice as high as in the previous year. E-mobility is still in its infancy, but it will take hold. Battery manufacturers must significantly expand global production capacity for lithium-ion batteries. In Europe alone, it has to grow to 300 gigawatt hours per year by 2025 – equivalent to the batteries for around 6 million electric cars. More than half the factories required for them have not even been planned yet – a massive opportunity for the mechanical and plant engineering industry.
Dozens of process stages are required to turn the raw materials into a battery that works safely and is long-lasting. Cell production and especially electrode coating play a key role. This is because each individual battery cell consists of two electrodes, extremely thin aluminum or copper foils that accommodate the lithium ions moving back and forth during charging and discharging. To this end, the foils must be provided with a 50- to 150-micrometer-thin coating – with graphite on the anode side and with a compound of nickel, manganese, cobalt and lithium in a precisely defined ratio on the cathode side. The electrodes account for around 80 percent of the material value of a modern battery.
Cell production plays a pivotal role in the breakthrough of the electric car: Only if it becomes possible to produce a great many cells very quickly and fully automatically can the prices of batteries fall significantly. In addition, the production quality must be extremely high to prevent some of the valuable materials from having to be disposed of as waste later on, which would also negatively affect the environmental footprint of the electric car.
Regardless of the type of battery, electrode production always takes place in two steps: The first step is the coating of the aluminum or copper foils, which are supplied on large rolls. In the second step, they pass through a drying oven. There, the solvent contained in the coating material escapes, requiring a laborious exhaust-air purification process. But solvent is expensive – so purifying the exhaust air is not the only issue. Thanks to a smart recovery system, it is possible to reuse a large amount of the solvent. This protects both the environment and the battery producers' budgets.
EVERYTHING FROM A SINGLE SOURCE
In the automotive business, Dürr is known for its paint shops – customers receive them as turnkey systems; in other words: all-inclusive. Now, also battery manufacturers can order the necessary technology for electrode coating from a single source: from electrode coating through to exhaust-air purification and solvent recovery.
Most plants currently used by battery manufacturers coat one side of the electrode foil first before moving on to the other. A pioneer of this technology is coating specialist Techno Smart, which has been cooperating with Dürr since 2020. The company, which is based in the Japanese city of Osaka, was developing coating technologies for lithium-ion cells as early as the 1990s and supplies well-known manufacturers. Dürr Megtec, which has been part of the Dürr Group since 2018, has developed a new process that even enables electrode foils to be coated on both sides simultaneously. To this end, the foil must pass through a drying oven, measuring up to 50 meters long, suspended and without making the slightest contact with any of the machine parts. At Dürr Megtec, Andreas Keil is responsible for developing the Europe business within electrode production – and he is convinced that simultaneous coating not only achieves cost benefits but also improves quality. In the pilot production of a large European automaker, the process, which only Dürr Megtec can offer, is already in use. It is also particularly suitable for small battery cells, such as those found in hearing aids, for example.
Dürr's range for electric car manufactures includes:
Up to 60 liters of refrigerant is filled into the cooling system of batteries and electronics using Dürr technology.
The rotors of electric motors are tested and pushed to their limit using the spin test system of Dürr's subsidiary Schenck RoTec.
Dürr Consulting helps automakers plan and build their battery assembly plants.
The individual battery cells are arranged next to each other and – in simple terms – glued together to create a battery module. Dürr application technology applies a thermally conductive paste between battery module and cooling plate.
Dürr's testing technology ensures that the high-voltage circuits in electric vehicles pose no risks.
Taking charge of battery technology
Dürr technologies are also used in many other stages of cell and battery system production. One such example is the coating of cells using the → EcoPaintJet, a particularly accurate painting robot system that does not generate any overspray. This stage serves to provide not only electrical insulation of the battery cells but also thermal insulation. Dürr also has the right technology for gluing together battery cells to create modules and for applying thermally conductive paste between battery module and cooling plate. Filling the battery cooling system with refrigerant? Dürr can help here, too, as well as in the planning of battery assembly plants. The list goes on – and is getting even longer: Following the acquisition of a majority stake in Teamtechnik in February 2021, the portfolio now also includes technologies for assembling and testing battery modules.
Typical applications for lithium-ion batteries
Electric cars are the big growth driver in the global market for lithium-ion batteries, yet they are also used for many other devices. Users of wireless headphones, e-bikes and electricity storage facilities appreciate the high energy density of lithium-ion technology and the low weight of the batteries. These cells, too, are produced using Dürr technology.
From the ear trumpet to a tiny high-tech loudspeaker: Hearing aids have come a long way. Until now, they have mostly run on disposable batteries. Thanks to lithium-ion technology and chargers, rechargeable batteries are now revolutionizing the market.
They are putting an end to tangled cables and the laborious lifting of the vacuum cleaner from one step to the next: Cordless models are transforming the industry. Thanks to the powerful lithium-ion technology, some devices last for over an hour while in use – but they are still light.
Long-lasting lithium-ion batteries provide sufficient energy while keeping the weight low. This is one reason why the trend toward e-bikes is unstoppable.
Used for videoconferencing, especially during lockdown: Small wireless headphones which play conversations and music – and cancel ambient noise. Their lithium-ion batteries are charged in small cases, for example.
Because the sun doesn't shine at night
More and more homeowners are using photovoltaic systems to convert solar power into free electricity. This trend could see another boost following the spread of electric cars. But the sun does not shine at night – yet this is when the electric car is plugged in, when the washing machine, tumble dryer and other appliances are running. Energy storage systems are the solution. During the day they capture solar energy, while at night they release it. Another case for lithium-ion batteries: Thanks to their high energy density, they are small and thus fit into many basements.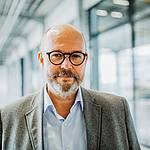 Andreas Keil
Director Business Development
Dürr Megtec
Carl-Benz-Str. 34
74321 Bietigheim-Bissingen
Germany