---
Extel
Extel is the most comprehensive assessment by professionals of all sides of the investment community across European Equities.
2019: 3rd place (Capital Goods Europe)
2018: 4th place (Capital Goods Europe)
2017: 3rd place (Capital Goods Europe)
---
2017 All-Europe Executive Team
We also achieved top rankings in the All-Europe Executive Team Survey, an institutional investor competition: the capital goods analysts awarded our investor relations program second place. Our IR website and our capital market days also impressed representatives from the buy and sell side.
---
Investors' Darling
The Investor Relations team of Dürr AG regularly reaches good MDAX positions. In an extensive comparison carried out by Manager Magazine, Dürr came eigth. The ranking "Investor's Darling" follows the Manager Magazin's ranking "The best Annual Reports" in which Dürr has reached top positions for years.
2017: 8th place (MDAX)
2016: 3rd place (MDAX)
2015: 3rd place (MDAX)
2014: 2nd place (MDAX)
2013: 4th place (MDAX)
2012: 4th place (MDAX)
2011: 1st place (SDAX)
2010: 3rd place (SDAX)
2009: 5th place (SDAX)
2008: 3rd place (SDAX)
2007: 3rd place (SDAX)
---
BILANZ Award
The important capital market ranking organized by business journal BILANZ, which assessed content of annual reports, was stopped in 2018.
2017: 2nd place (MDAX), overall ranking 4th
2016: 4th place (MDAX), overall ranking 7th
2015: 4th place (MDAX), overall ranking 6th
---
ARC Awards International
The annual report 2017 of Dürr AG convinced the jury of the ARC Awards in the category "Traditional Annual Report - Construction & Building" and was awarded with "HONORS".
2016: Gold Award
2015: Gold Award
---
LACP-Award
At the international LACP-Award (League of American Communication Professionals) Dürr has received awards for its annual reports as well.
Report 2017: Bronze Award
Report 2016: Bronze Award
Report 2015: Bronze Award
Report 2014: Gold Award
Report 2013: Silver Award
Report 2012: Gold Award
Report 2008: Gold Award
Report 2007: Silver Award
---
German IR Award ("Deutscher Investor Relations Preis")
In 2011 Dürr won the German IR Award for the first time. This price is awarded jointly by Thomson Reuters Extel Surveys, the German business magazine Wirtschaftswoche and the German Investor Relations Association (D.I.R.K.). In this competition Dürr achieved first place in the category "Best IR Manager 2011" in the SDAX segment as well. The ranking was based on a survey of around 800 fund managers and analysts. In MDAX Dürr reached places in the first third of the ranking in the years 2012-2016.
---
Fox Finance Award
Since 2010, the FOX AWARDS distinguish efficient marketing and communication solutions in print and digital. 2015 competition was first fragmented: From FOX AWARDS Category 'Reports' has been the own Award FOX FINANCE. He puts his focus on the efficiency of corporate reporting that illuminates long beyond the boundaries of traditional business report, the equity story of entrepreneurs in all facets. Dürr has received the Silver Award in 2017 for its Annual Report.
2017: Silver Award
2016: Silver Award
2015: Silver Award
---
Good Design 2016 Award
GOOD DESIGN ™ is the world's most prestigious, recognized, and oldest Design Awards program organized annually by The Chicago Athenaeum Museum of Architecture and Design in cooperation with the European Centre for Architecture, Art, Design and Urban Studies.
Annual Report 2014 - "2015 Good Design Award"
Annual Report 2015 - "2016 Good Design Award"
---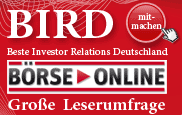 Best Investor Relations in Germany 2012
2nd place (MDAX) at BIRD poll
At the current reader poll of Boerse Online BIRD 2012 (Best Investor Relations in Germany) Duerr AG has reached the 2nd place in the category MDAX. In the overall ranking Dürr AG was ranked ninth. As of 2013, the competition was discontinued.
2012: 2nd place (MDAX)
2011: 2nd place (SDAX)
---

Capital-IR-Price
In the Capital IR Award Dürr achieved first place in the years 2011 and 2009 among 50 SDAX companies; 2010 Dürr achieved the 8th place. In this competition the German business magazine Capital and the German Financial Analysis and Asset Management Association (DVFA) evaluate the financial communication of important german and european companies. As of 2012, the competition was discontinued.
Within the 2011 Capital IR Award a new aspect was separately considered: "How well is the communication when it comes to sustainability?". In this segment Dürr received an outstanding 2nd place.