The Future Factory
In our Digital Factories, around 100 experts are driving forward networked, smart manufacturing. To develop digital products successfully they must not only be creative but also work fast.
Ties? Not worn much around here! Suits? Hardly! Instead, people wear shirts and jeans. In a focused but informal atmosphere, they look at posters and screens, and discuss new digital ideas. The software developers and control engineers are part of the Dürr Digital Factory – Dürr's vanguard into the world of networked industry. Several times a year, they spend a day together in the lobby of the Group's headquarters in Bietigheim-Bissingen, where they discuss their projects at high tables and stands.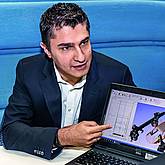 One of them is Nico Koch. He manages a team of 11 people between the ages of 23 and 40. Koch enjoys working in the Digital Factory. He likes his colleagues' commitment, passion and energy. "We cooperate really well", says the 40-year-old. Routine? Boredom? They are even rarer in the Digital Factory than they are elsewhere in the Group. One of his current projects is to develop an application for evaluating data from manufacturing, which makes the maintenance of machines even easier and more predictable - thus increasing the quality of production. This is one of many solutions that offer measurable benefits to customers from the automotive industry.
The Dürr Digital Factory is a cross-divisional organization. This means that employees work together, but belong to different divisions – Paint and Final Assembly Systems, Application Technology or Clean Technology Systems. In the past, there would sometimes be several teams working on similar ideas. Now, their strengths can be used in a targeted way in the Digital Factory.
Developers have to identify market trends early on, and be able to assess the opportunities for new applications right away
Dr. Jochen Weyrauch , CEO of Dürr Systems AG
The same goes for Woodworking Machinery and Systems, the division created following the acquisition of HOMAG Group AG, headquartered in Schopfloch in Germany's Black Forest region. At this division, which produces machines and systems for the woodworking industry, software experts have joined forces in another Digital Factory – specializing in their customers' specific requirements. "We often find that furniture manufacturers no longer buy stand-alone machines or systems", reports Uwe Jonas, Vice President Consulting and Software at HOMAG. Instead, they need end-to-end solutions for their factories and workshops, from cutting to packaging of finished parts. Ideally, production lines must be able to manufacture furniture in batch-size 1 production, where no two pieces of furniture are the same. These production systems are controlled by software that is complex yet easy to operate, developed by HOMAG's Digital Factory. Another Digital Factory can be found at Dürr's subsidiary, Schenck RoTec.
Working in the Digital Factory
Industry is undergoing a profound, technological transformation worldwide. Today, production between individual plants is already closely interconnected. In the long term, it is likely that factories will no longer work in isolation, but will self-coordinate via digital platforms. Thanks to the Industrial Internet of Things (IIoT), this will one day be possible across continents, fully automatically. Companies can compare and coordinate the plants of their production network. Dr. Jochen Weyrauch, CEO of Dürr Systems AG, has no doubt: "This is a trend in mechanical engineering that plays a crucial role in shaping the future of this industry."
As a result, Dürr's competitors not only include familiar companies from the mechanical and plant engineering sector. "Software companies also want to gain a foothold in the market", says Dr. Annabel Jondral, Senior Manager at the Dürr Digital Factory. They offer their own IIoT platforms and also provide applications. This is why Dürr has developed the ADAMOS IIoT platform, together with partners from the mechanical engineering and software sectors.
_Hackath[on]
_A programmers' competition
Focused on the job and having fun together – this best describes the atmosphere at the second ADAMOS Hackathon. For three days, 60 programmers developed apps and other software products for the Industrial Internet of Things (IIoT). The photos show below shows impressions of the competition hosted by Dürr, which is now planned to be held on a regular basis.
A Hackathon is a software programming competition. The participants mostly come from different fields and work in mixed teams. They are thus able to share their experiences and make new contacts. Unlike a normal work meeting, the Hackathon focuses even more on having fun with the activities and showing a passion for the product.
"Informal yet focused and motivated to the max: The Hackathon team really impressed me."
Ralf W. Dieter,
CEO of Dürr AG
The term 'Hackathon' is an invented word: the first syllable refers to the verb to hack, which used to refer to the activity of gaining unauthorized access to third-party IT systems. In IT circles, the word is now also synonymous with legitimate programming. The second part of the term comes from marathon – after all, a Hackathon requires stamina. It often lasts several days.
Quick decisions, flexible work
Digitization is increasing the pace of development in all industries. A good machine is ready for the market within three years, good software within just a few months. "This is why developers have to identify market trends early on, and be able to assess the opportunities for new applications right away", says Dr. Weyrauch. Customers' wishes can also change very quickly. This means suppliers like Dürr are decreasingly able to plan the development of new software in any detail. Flexibility is key.
This is another reason why the Digital Factory relies on the principle of agile working – a method whereby teams organize themselves in an independent and flexible manner, where appropriate, and work incrementally. This means the software development occurs in small steps, and improvements are implemented continuously. In the Dürr Digital Factory most teams generally self- organize, take responsibility for their decisions and divide tasks among themselves. This ensures that work carries on, even when managers are not available to make important decisions.
Digital data is the new raw material
Having your own ideas and thinking outside the box are welcome characteristics at the Dürr Digital Factory. It's the kind of environment that really suits Paul Thomä. The 30-year-old mathematician has been working at Dürr for a year and is happy here: "I like the relaxed approach and the flat hierarchies." Thomä is working on the development of self-learning systems, which use large data sets. His work forms the basis for manufacturing lines which, in the age of artificial intelligence, are designed to optimize their processes autonomously.
Manufacturing data is the raw material for the Digital Factory – from pump pressure and temperature through to operating hours. In factories this data has long been determined by means of sensors, among other things. These are installed at different locations and have, until now, mostly served to monitor processes. The Digital Factory experts are taking it further: their applications perform real-time comparisons between current values and setpoints, something that experts refer to as 'streaming analytics'. Historical data is also analyzed. This helps to identify deviations or patterns. The results are used to optimize troubleshooting and maintenance. They also allow indications of process quality and therefore quality of manufactured products. The aim is to manufacture as many parts as possible, defect-free from the outset. The higher this 'first run rate', the lower the cost of any rework. There are currently around 20 development projects at the Dürr Digital Factory. Automotive factories are already using the first software products. For employees, this provides a high level of motivation. Success is important to ensure that work in the Digital Factory is fun. And it should remain so in the future. So far, this has not been an issue. According to team leader Koch, his employees "are really passionate about these topics".
Smart Applications from the Digital Factories
This analysis software seamlessly records all data from the painting process. Based on this, a 'digital fingerprint' is created for every painted car body. It contains information, for example, on the painting robots' movements, on paint consumption, and on the exact position of the car body during painting. If a quality problem occurs, the cause can be determined immediately using the recorded data. For instance: for each painted car body the plant operator can project every path taken by the painting robot onto the CAD model of the car body on the screen. In addition, algorithms process data from the painting process in real time and show anomalies. Thanks to this Streaming Analytics function, any errors can immediately be rectified. A Batch Analytics function will soon also be available. Here, the software analyzes historical data, detects trends, and uses artificial intelligence to develop predictions and recommended actions.
This application supports customers in the maintenance of large automotive paint shops, where thousands of components, such as pumps, valves, filters or sensors, must be serviced. The DXQequipment.maintenance keeps a record of all components. It shows maintenance dates, provides access to instructions, prompts completed work acknowledgment, and prepares a maintenance history. One unique selling point is that the software not only signals the dates of fixed maintenance intervals, but it also works on a cyclical basis. This means it counts how often a component has been used and calculates the remaining operating time. For this purpose, it accesses the controls in the paint shop to retrieve usage data.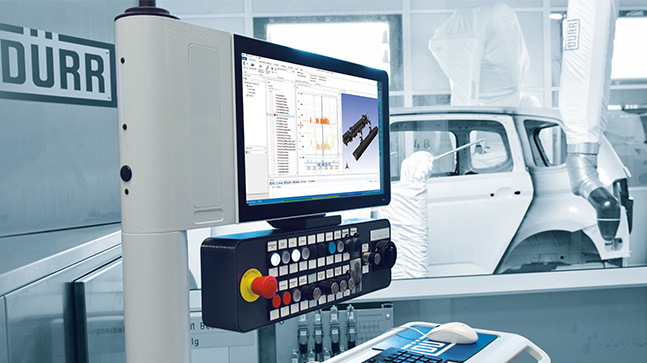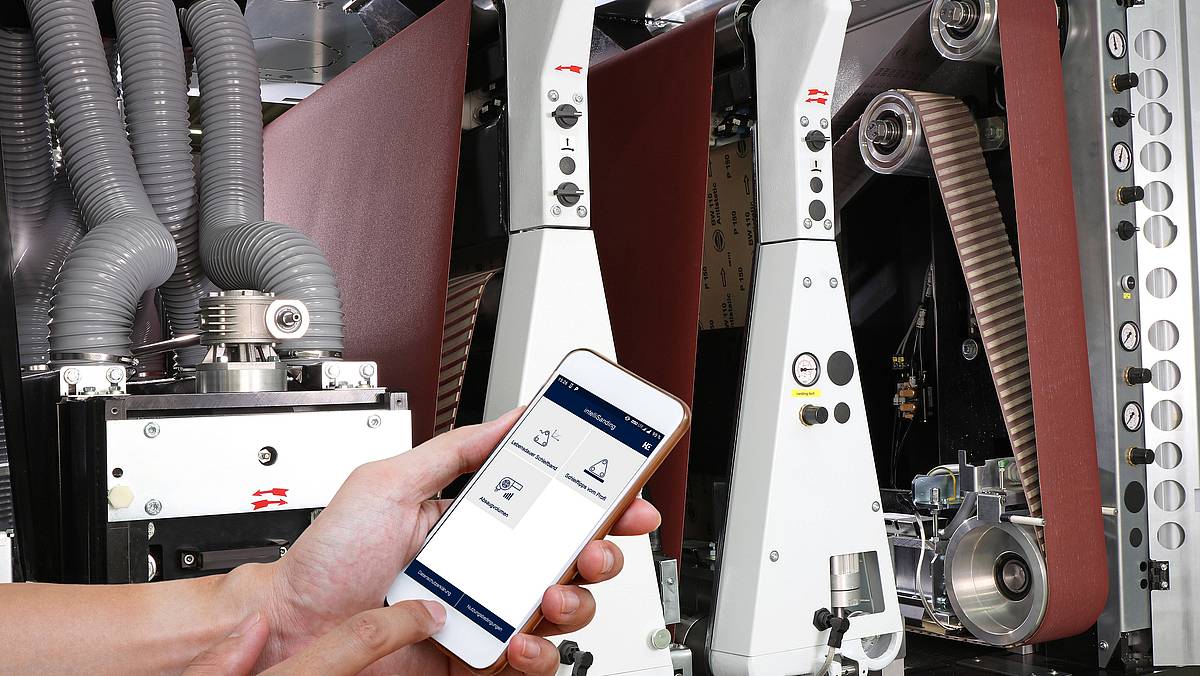 Whether sanding, painting, laminating or planning – using the right app makes everyday jobs simpler and more efficient. This is why the HOMAG Group has developed a special app family for this purpose. The apps of the Surface Processing business unit include digital production assistants for machine operators in industry and trade. One example is the sanding app, intelliSanding. It suggests to the user the settings that are most suitable for the project. Moreover, it calculates and visualizes the remaining life of the sanding belts, and estimates the volume of chips to be extracted per day, shift or minute. HOMAG applications also work with the machines of other manufacturers and thus offer huge market potential.