Sustainability at teamtechnik
Sustainability in the business model and the company
Future-oriented topics have always been a focus of teamtechnik: The subsidiary of the Dürr Group offers products and solutions in the areas of electric mobility (e-mobility), renewable energy generation, and energy storage. 41% of the teamtechnik Group's sales are already environmentally sustainable in accordance with EU Taxonomy criteria – the company from Freiberg am Neckar (Germany) is thus one of the front-runners at the Dürr Group. However, the automation specialist not only has a future-proof business model but has also created sustainable daily business practices. How? Find out more in the following text.
Solar technology for the energy transition
Renewable energy sources such as sun, wind, hydropower, biomass, or geothermal heat are essential for the energy transition. Appropriate technologies have become more important, especially in recent times, since they create independence from fossil fuel imports while also reducing the emission of harmful greenhouse gases. teamtechnik has specialized in solar technology and develops production systems for what is known as "solar cell strings". The term refers to rows of solar cells which are then installed in solar modules. To this end, individual cells are soldered or glued to a conducting wire, enabling light energy from the sun to be harnessed and turned into electricity.
"A solar module is especially efficient if the fine wires are applied in straight lines and soldered neatly," says Philipp Enzel, Marketing Director at teamtechnik as he explains what teamtechnik systems are particularly good at. Customers have also realized this: In spring 2022, the company received its largest order to date for over 20 stringers for Europe's biggest solar module factory.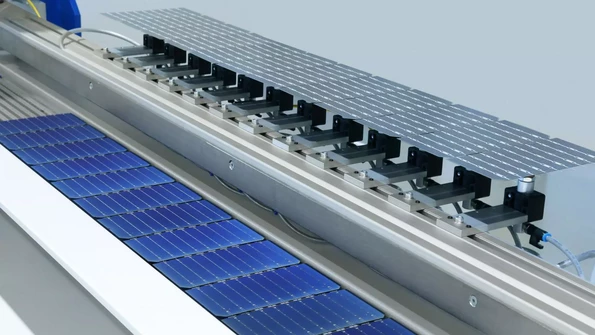 The company also uses solar technology on its own roofs at its headquarters in Freiberg. In 2021, the photovoltaic systems generated around 420 MWh of energy using the power of the sun. This corresponds to the average annual energy consumption of over 100 4-person households in Germany. The energy thus generated is used for the production facilities and is fed into the in-house e-charging station. "This is how we charge our hybrid and e-pool vehicles," reports Philipp Enzel. "We have over 30 charging points throughout the entire company premises, which colleagues also use to recharge their electric cars."
E-mobility is a keyword that can be found multiple times in the teamtechnik Group's portfolio. This business field accounts for around 60% of sales. "We mainly offer systems for the end-of-line testing of fully assembled electric drives and hybrid transmissions," explains teamtechnik's Marketing Director. "We are the world market leader in this field. All major automakers order test stands from us, and we have been able to implement the world's largest test fields." The United States, Europe, and China are promising growth markets.
Another activity involves solutions for assembling and testing battery modules and battery packs. Several battery cells are connected to form a battery module, and several connected modules make up a battery pack. The latter are used, for example, in electric vehicles or in home storage units of photovoltaic systems.
Responsibility for employees and society
Sustainability not only includes an environmental component but also comes with social responsibility for the 850 employees of the teamtechnik Group. This is reflected in multiple ways at the Freiberg automation specialist. For instance: Apprentices have access to a modern training center measuring over 1,000 m2, and all employees can take part in wellbeing days, cookery and nutrition courses, or sports groups. teamtechnik is also dedicated to social causes and has recently donated over 1,000 kg of relief supplies to people in Ukrainian war zones.
"We also produce automated systems for assembling medical devices," says Philipp Enzel. "We thus ultimately help to improve the quality of life for people all over the world." He points out: "Sustainability is, and always will be, an integral part of our company strategy."