On the road with Dr. Jochen Weyrauch
We joined Dr. Jochen Weyrauch on his way back from HOMAG in Schopfloch to the Bietigheim-Bissingen headquarters. We came equipped with: a dictaphone, a camera – and plenty of questions. We asked the new CEO these questions on the one-and-a-half-hour drive.
Does he miss the engine sound in his electric car? And how sustainable is Jochen Weyrauch's lifestyle outside of work? Answers to these and further personal questions can be found in our video. In the second part of our interview, you will learn how important the topic of sustainability is at the Dürr Group and how the CEO wants to promote future tasks such as digitalization and the transformation of the working environment.
We are about to leave the Group's subsidiary HOMAG in Schopfloch and drive back to the Bietigheim-Bissingen headquarters in your electric car. Yours will be one of the few electric vehicles on the freeway. When is this likely to change?
JW: The breakthrough of electromobility is already in the cards today. In Germany, we are seeing record levels of new registrations for electric vehicles every year. I expect that by 2030, around a third of all new vehicles will have an electric drive. And this shift is not just happening in Germany, but worldwide. Including China, where development is much further along that road than it is here.
How will this affect Dürr's products and services?
JW: E-mobility is driving our business because numerous start-ups from Europe, Asia, and the United States are surging into this market. We are providing machines and systems for their factories. Furthermore, we are supporting established OEMs who are converting their production facilities. Electric cars are heavier, which means conventional manufacturing systems are often not suitable for them. But e-mobility also offers us the opportunity to enter new markets. To give you an example: We provide coating systems for electrodes, which are installed in battery cells. In addition, the Dürr Group, through Teamtechnik, leads the market in the testing of electric drives.
Weyrauch glances at the cockpit, starts the car, and touches the large touchscreen in the central console. We can hear the voice of the soul singer Alicia Keys. He likes her music, enjoys listening to her while driving, and wants to go to one of her concerts as soon as possible. Depending on his mood, he will sometimes switch to rap or classical music. The right music enhances the driving experience. He does turn down the volume for our conversation, though.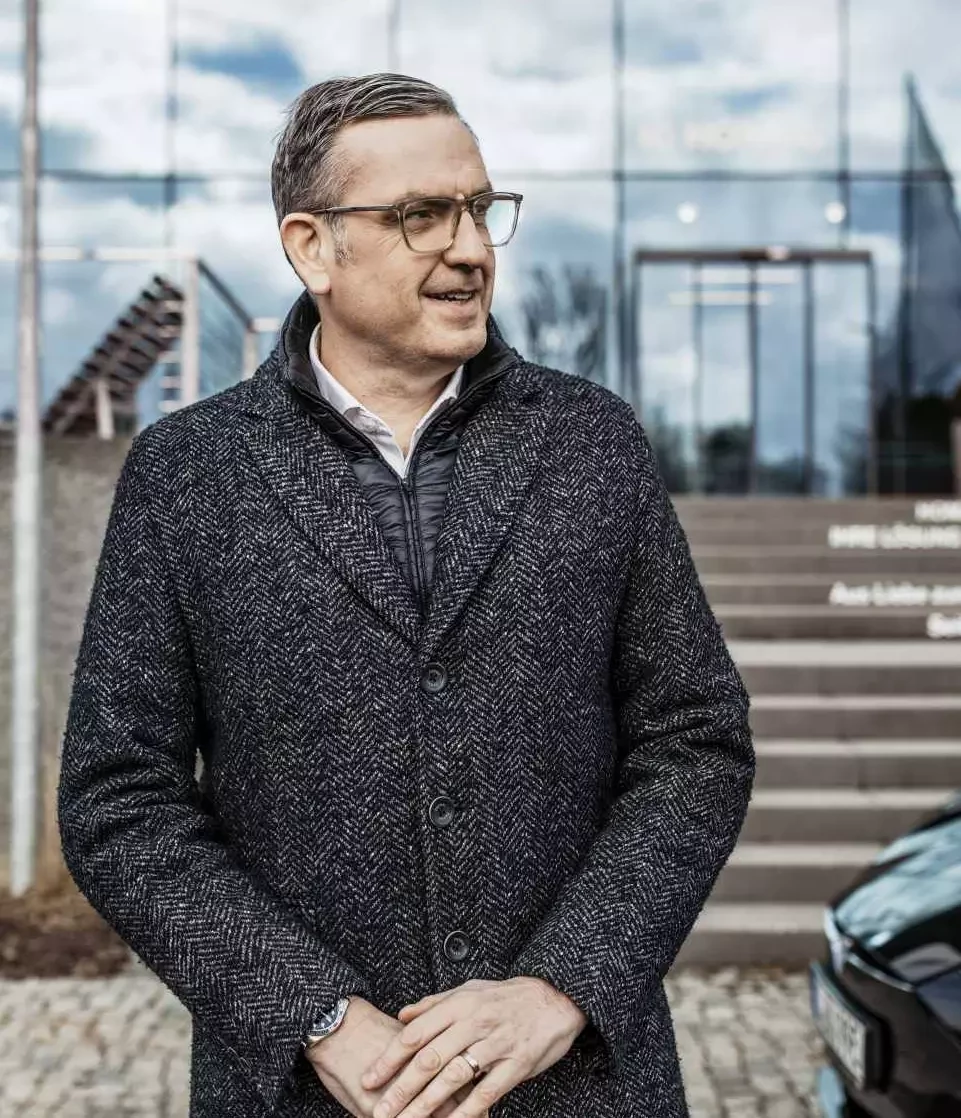 An electrifying job: Jochen Weyrauch, who holds a PhD in industrial engineering, has been CEO of the Dürr Group since January 2022 and is constantly on the move. To travel as sustainably as possible, he has chosen an electrically powered company car.
When it comes to sustainability, there is huge potential to be leveraged in industry.
Dr. Jochen Weyrauch , CEO of Dürr AG
The esthetics of a vehicle are underlined by the right paint finish. Is this the same for electric cars?
JW: We have seen that the paint finish is becoming more important due to the success of electromobility. Since electric drives shape the character of a car less than the various internal combustion engines, manufacturers are trying to differentiate their vehicles through the type of color by offering, for example, cars with a two-tone design. This places higher demands on the painting technology, which has a positive impact on our business.
In automotive manufacturing, paint shops were long considered energy guzzlers. To what extent are manufacturers prepared to make their production more sustainable?
JW: When it comes to sustainability, there is still huge potential to be leveraged in industry. Around 200 automotive factories in Europe are still removing overspray in the paint booth using the conventional wet process, which consumes a lot of energy and water. And yet it is possible to reduce the CO2 emissions of a medium-sized painting line by around 8,000 tons per year using our modern dry separation system. For ovens or exhaust-air purification systems, we also offer alternatives that are significantly more economical and eco-friendlier. How much these innovations continue to take hold depends on how far the automotive industry drives its sustainability-related investments.
The car in which we are sitting still needs to be steered manually. When will automated driving become the norm?
JW: We're looking at a good ten years before that happens. The development effort for the automotive industry is extremely high, plus the legally required certification processes also take a lot of time and effort. But we are already seeing some promising approaches.
With a smile, the CEO pulls a lever and shortly afterwards he is only lightly touching the steering wheel. The autopilot keeps the car in the lane. This is only permitted when the driver can intervene at any time. It is a precursor to automated driving — something that even a motor sport enthusiast like Weyrauch appears to enjoy.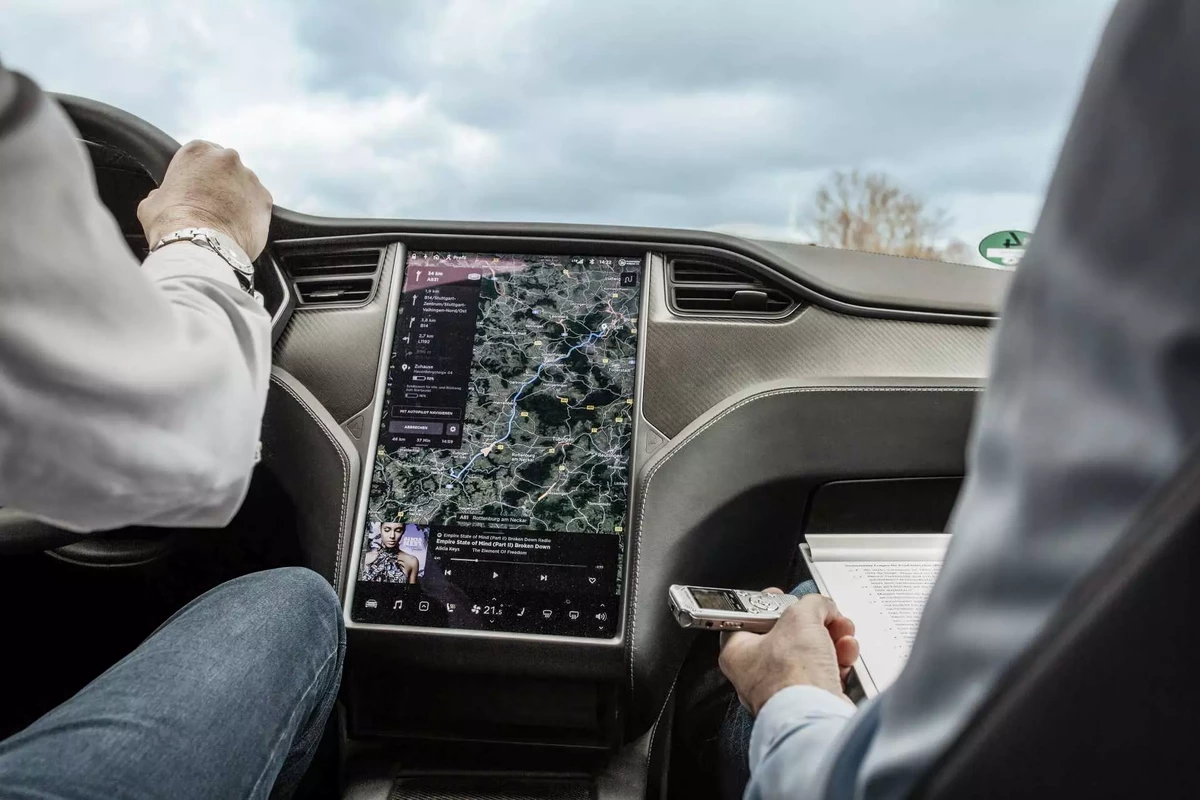 The CEO knows the way, but he still likes to use his sat nav.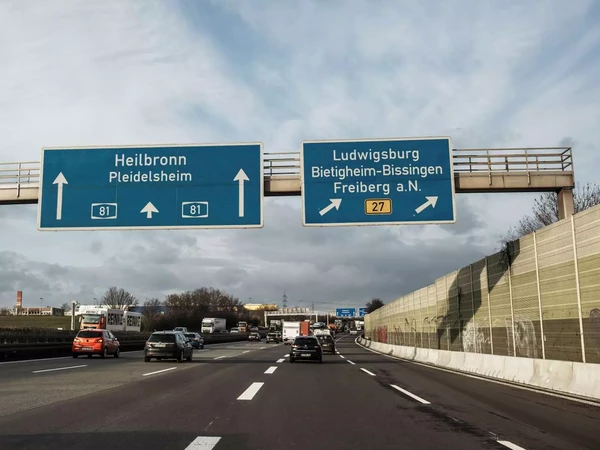 Taking the right exit: The destination of the journey is Bietigheim-Bissingen.
The Dürr Group itself drives technological progress in a number of areas. What are the most important innovations right now?
JW: We are breaking with the rigid structure of painting systems and are making the processes of carmakers more flexible with the help of modular systems. A painting line where car bodies move along one after the other could soon become a thing of the past. In the field of timber construction, our subsidiary HOMAG is a great innovator. This is where we are developing systems to push industrialized timber house construction — not only for single-family houses. Multi-story buildings or even high-rise buildings can also be erected in this way.
We are on the A81 freeway, just outside Böblingen. Suddenly, we can hear a beeping sound and the car breaks automatically. The electronic system has intervened. The distance to the car ahead was too short — at least according to the software.
Digital tools are increasingly shaping cooperation within the workforce. How does everyone cope with this?
JW: We will see a transformation in this regard within the next few years. Nobody should be left behind on this journey. We are therefore offering training programs, which help employees to familiarize themselves with new and useful digital tools. They will make mobile or hybrid working easier. These modern ways of working are especially popular with the younger generation. That's an important point given the demographic shift. We are already competing for the best talent in many areas — and so far we have been successful.
Automotive industry, woodworking, medical devices — the Dürr Group is positioning itself more and more broadly. Why?
JW: Aside from the highly cyclical automotive business, we are developing further mainstays that give us stability. By adopting this approach, we have already made great strides. Last year, for the first time, our sales were higher in the non-automotive sector than in our traditional business. We have noticed that the capital market values this step.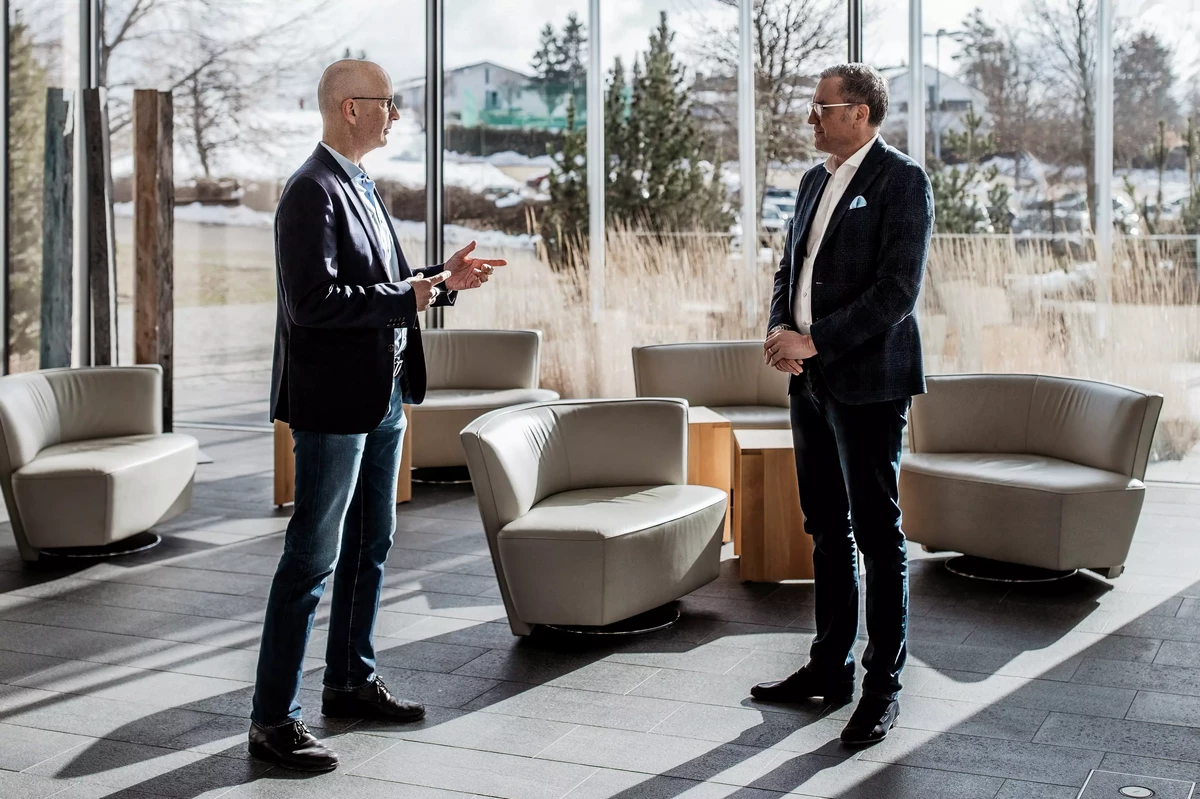 Jochen Weyrauch (right) talks to Heimo Fischer.
Supply shortages are currently impacting numerous companies. How is your company preparing for this?
JW: Over the past few years, the business world has paid too little attention to supply chain security. Now this topic is at the forefront every day, not least because of Russia's devastating attacks on Ukraine. Supply shortages no longer affect only semi-conductors but also steel and other materials that nobody ever thought could be subject to shortages. Having coped relatively well at first, we are now also feeling the effects of the ongoing bottlenecks. Our purchasing department, for which we developed a more strategic approach last year, is working closely with our engineers to find solutions together if any parts are missing.
After more than 90 kilometers, we have reached our destination. There is a charging station outside the Bietigheim-Bissingen headquarters. This is where Weyrauch parks his car — so when he leaves work, he can carry on driving with a fully charged battery.
More from "Prepared for tomorrow"