A pioneer with goals
CEO Dieter is optimistic about the future
Being a global company, the Dürr Group monitors developments around the world very closely. Despite a great deal of uncertainty, CEO Ralf W. Dieter has reason to be optimistic about the future.
He argues that "this is partly due to the fact that we gained an early foothold in the world's growth regions, such as China". This country continues to offer huge opportunities for Western companies. The consumer spending of the growing middle class is driving the industry's investment needs. This in turn benefits Dürr and the two sub-groups, Schenck and HOMAG, as providers of cutting-edge technology.
Ralf W. Dieter continues: "Strategic acquisitions are enabling us to give our company a broader base that secures our future, and to position ourselves in niche markets with promising growth prospects." He mentions the example of the integration of the Megtec/Universal Group, which has helped Dürr significantly strengthen its position as a market leader in environmental technology.
The CEO reports that "sustainability aspects are becoming increasingly important – something we are noticing particularly in our automotive business". Resource-friendly production technology is playing an ever greater role when projects are awarded.
To secure its position as a technology leader in mechanical and plant engineering, the Dürr Group is resolutely driving digitalization. The smart applications offered by Dürr, Schenck and HOMAG help to make production more economical and sustainable – for carmakers and local carpenters alike. "All modesty aside: I see our company as a pioneer in developing digital solutions for the mechanical and plant engineering industry – and I see this reflected time and again in many discussions with our customers and other mechanical plant engineering firms. But we won't rest on our laurels. Smart production technology has top priority in our development work", highlights Ralf W. Dieter.
The Dürr Group knows that it can only overcome the challenges that lie ahead by deploying the best talent. To remain an attractive employer, the company does not shy away from taking a critical look in the mirror. "Aside from regular worldwide employee surveys, we have also launched initiatives such as the → Young Generation Dialogue. We seek an open dialog with our employees in order to learn how young people, in particular, want to be led", says the CEO.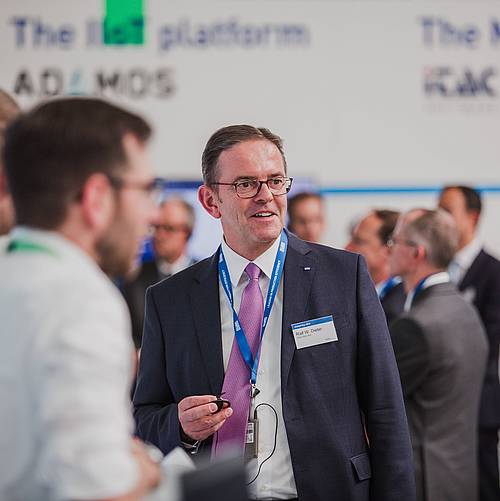 We seek an open dialog with our employees in order to learn how young people, in particular, want to be led.
Ralf W. Dieter, CEO Dürr AG